Former Virginia Supreme Court Justice John Charles Thomas to speak at Convocation
Judge John Charles Thomas, the first black justice appointed to the Supreme Court of Virginia and a longtime member of the William & Mary Board of Visitors, will welcome the university's newest students to campus at the 2017 Opening Convocation ceremony, to be held Aug. 30 at 5:15 p.m. in the Wren Yard.
In addition to marking the beginning of the 2017-18 academic year, the event will coincide with the start of a yearlong series of events at the university commemorating the 50th anniversary of William & Mary's first African-American residential students.
Thomas is a senior partner at Hunton & Williams, where he leads the appellate practice group. He was appointed to the W&M Board in 2006 to fill an unexpired term and reappointed to two four-year terms in 2009 and 2013, making him the longest-serving Board member in modern history. Thomas will step down from the Board next month after nearly 12 years of service. In addition to being the first black justice on the Virginia Supreme Court, at 32, he was also the youngest to be appointed to that position.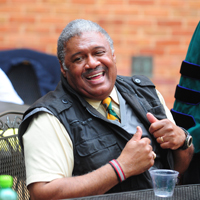 "A William & Mary law student once described Justice Thomas as 'the epitome of the citizen lawyer' and that's exactly right," said President Taylor Reveley. "John Charles Thomas has been at the forefront of progress on so many fronts during his extraordinary career, paving the way for countless others to follow.  It is our great good fortune that he has agreed not only to welcome the Class of 2021 at Opening Convocation, but also to be part of our important year recognizing the African-American experience at William & Mary."
Thomas earned his undergraduate and law degrees from the University of Virginia. He was appointed to the Virginia Supreme Court in 1983 and, until his retirement in 1989, ruled on thousands of appellate matters ranging from contracts to taxation, according to the Hunton & Williams website. In his current role with that firm, Thomas — an American Arbitrator Association-certified mediator and arbitrator — concentrates on appellate practice, general litigation and alternative dispute resolution. He also serves on the AAA Panel of Commercial Arbitrators and AAA Panel of International Arbitrators and has been a judge of the Court of Arbitration for Sport in Lausanne, Switzerland, since 2005.
Thomas has been highly involved at W&M throughout his tenure on the Board of Visitors.  He is a frequent and popular speaker at W&M Law School's orientation for new J.D. and LL.M. students. In 2012, he spoke at W&M Law School's graduation ceremony. The next year, he collaborated with W&M faculty members Sophia Serghi and Harris Simon for a poetry recital of original work at Carnegie Hall. Among other campus engagements, Thomas was a panelist for a discussion about the state of diversity at W&M and a speaker at W&M Law School's first African-American Law Alumni Celebration.
"Justice Thomas is an amazing man of many talents and 'firsts' himself, breaking barriers for countless others," said Jacquelyn McLendon, professor emerita of English and chair of the 50th anniversary committee. "As an English professor, I appreciate his creativity in crafting poetry.  More important, as a black American citizen, I appreciate his proven commitment to equality for all. He is, indeed, a most appropriate person to mark the official opening of this important milestone in William & Mary's history."
For the Board of Visitors, Thomas is currently the chair of the Committee on Audit and Compliance and vice chair of the Committee on Administration, Buildings and Grounds. He previously chaired the Committee on Student Affairs.
In addition to his work at William & Mary, Thomas has lectured at multiple universities, including the Interim University Center in Dubrovnik, Croatia, the University of Virginia School of Law and the United States Military Academy at West Point, where he is a Friend of the Class of 1971.