Former director of Smithsonian African art museum to speak at W&M
Johnnetta B. Cole, renowned educator and former director of the Smithsonian National Museum of African Art, will speak at William & Mary's 2018 Martin Luther King Jr. commemoration.
The event, scheduled for Jan. 25 from 7 to 9 p.m. in the Sadler Center's Commonwealth Auditorium, is part of the university's 50th anniversary commemoration of African-American students in residence. Sponsored by the Center for Student Diversity, the Martin Luther King Jr. commemoration is free and open to the public.
"I am excited to meet and hear from Dr. Cole," said Kimberly Weatherly, director of the Center for Student Diversity. "She is a pioneer and inspiration to women. Her contributions to the field of education and diversity and inclusion are monumental. Who better to be the African Heritage Month speaker during our 50th anniversary celebration of the first female students in residence?"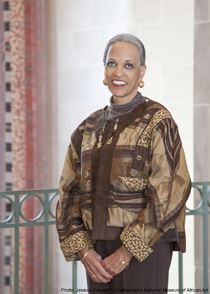 A native of Florida, Cole was granted early admission to Fisk University at the age of 15. She transferred to Oberlin College, where she earned her undergraduate degree. Cole went on to receive her master's and doctorate in anthropology from Northwestern University.
Throughout her career in higher education, she has taught at institutions including Washington State University, the University of Massachusetts at Amherst and Hunter College. In 1987, she became the first African-American woman to assume the presidency of Spelman College. In 2002, she once again took the helm of an institution of higher learning as the president of Bennett College. She retired from there five years later while remaining the chair of the Johnetta B. Cole Global Diversity and Inclusion Institute in Atlanta. She served as the director of the Smithsonian National Museum of African Art from 2009 until her retirement in June of this year.
Cole has received numerous awards, including more than 50 honorary degrees. She has served on the boards of such businesses as Home Depot and Merck and made history with others: She was the first African-American to chair the board of the United Way of America and the first woman to serve on the board of Coca-Cola Enterprises.
"With her vision, her wisdom, and her many remarkable achievements, Dr. Cole inspires all women, and especially women of color, to 'dream the boldest dream,'" said Jacqui McLendon, emerita professor of English and chair of the 50th anniversary committee.
The 50
th
anniversary commemoration, "Building on the Legacy," not only recognizes the university's first three African-American students in residence — Lynn Briley, Janet Brown and Karen Ely, Class of 1971 — but celebrates the contributions and achievements of all African-Americans at W&M throughout its history. The commemoration began with the unveiling of a mural in Swem Library in August with special events happening throughout the semester. The commemoration will continue into the spring, culminating with a Legacy Weekend, April 12-14.