Eight W&M students to be commissioned Friday
Eight William & Mary ROTC cadets will be commissioned as officers in the U.S. Army during a May 12 ceremony on campus.
Gen. David G. Perkins, commander of the U.S. Army's Training and Doctrine Command, will commission the cadets and speak at the ceremony, scheduled for 12:30 p.m. in the Commonwealth Auditorium.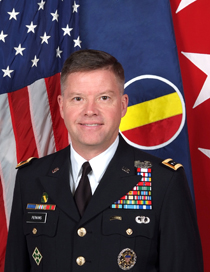 W&M Chancellor and former Secretary of Defense Robert M. Gates '65, L.H.D. '98, W&M President Taylor Reveley and Army Lt. Col. James M. Kimbrough, chair of the university's military science department, are also expected to provide remarks. Kimbrough is retiring this summer after four years at the university and 22 in the U.S. Army.
"This has been a humbling and rewarding way to end my Army career," Kimbrough. "I enjoyed watching these young leaders grow and develop as they prepared for the challenges of military service and the honor of leading American Soldiers. With them, I am certain that the Army is in good hands."
The cadets to be commissioned are:
William Barry Avdellas, Military Intelligence, Active Duty
Nicholas Benjamin Best, Armor Corps/Military Intelligence (Detail), Active Duty
Kyle Thomas Frego, Transportation Corps, Active Duty
Princess Danielle Johnson, Field Artillery/Military Intelligence (Detail), Active Duty
Colin Christopher Kelly, Armor Corps, Active Duty
Ryan David Thomas, Aviation Corps, Active Duty
John Wesley Yoest, Aviation Corps, Active Duty
Graham William Ward Young, Infantry, Active Duty
A native of New Hampshire, Perkins has helmed TRADOC since March 2014 following an assignment as commander of the Army Combined Arms Center at Fort Leavenworth, Kansas.
He previously served as the commanding general of the 4th Infantry Division (Mechanized), helping develop Iraqi Security Forces to take security responsibility following the transition of U.S. forces from Iraq. He was also the brigade commander for the 2nd Brigade, 3rd Infantry Division (Mechanized) during the invasion of Iraq, earning him the Silver Star, the nation's third highest award for valor.
Perkins was commissioned after graduating with a Bachelor of Science degree from the United States Military Academy at West Point in 1980. He also holds a master's degree in mechanical engineering from the University of Michigan and another master's in national security and strategic studies from the Naval War College.