Michael Gerson to serve as 2016 Andrews Fellow
Washington Post columnist, author and former presidential speechwriter Michael Gerson has been named the 2016 Hunter B. Andrews Distinguished Fellow in American Politics at William & Mary. He will be on campus April 4-5 to meet with students, faculty and staff.
"Mike Gerson has spent his career awash in American politics, working in them and writing about them," said President Taylor Reveley. "It is marvelous to welcome him to campus as William & Mary's 2016 Andrews Fellow. We look forward to his words of wisdom gained over the course of an exceptional career.  He will speak to us at a very unusual moment in our country's political evolution."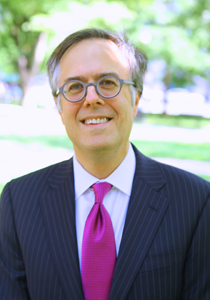 The Andrews Fellowship was created in 1998 by friends of the former state senator and William & Mary alumnus who died in 2005. Andrews served on the William & Mary Board of Visitors from 2003 to 2005.
Gerson is a nationally syndicated columnist who appears twice weekly in The Washington Post. He is the author of Heroic Conservatism and co-author of City of Man: Religion and Politics in a New Era. He appears regularly on PBS NewsHour, Face the Nation and other programs. Previously, Gerson served as a top aide to President George W. Bush where he served as both a speechwriter and as assistant to the president for policy and strategic planning.
Currently, Gerson serves as senior advisor at One, a bipartisan organization dedicated to the fight against extreme poverty and preventable diseases.
During his time in the Bush administration, Gerson was a key advocate for the President's Emergency Plan for AIDS Relief, the President's Malaria Initiative, the fight against global sex trafficking and funding for women's justice and empowerment issues. Prior to serving as assistant to the president, Gerson served in the White House as deputy assistant to the president, director of presidential speechwriting, assistant to the president for speechwriting and policy advisor. Gerson joined Bush's presidential campaign in early 1999 as chief speechwriter and a senior policy advisor.
Gerson was previously a senior editor covering politics at U.S. News and World Report. He was a speechwriter and policy advisor for Jack Kemp and a speechwriter for Bob Dole during the 1996 presidential campaign. He also served Senator Dan Coats of Indiana as policy director.
Each year, the Andrews Fellowship program brings a notable journalist, politician or scholar to campus to talk with students, faculty and staff. Previous fellows have included political scholar and analyst Larry Sabato; former
Washington Post
columnist David Broder; Tom Foley (D-Wash.), 49th Speaker of the U.S. House of Representatives; Representative and civil rights leader John Lewis (D-Ga.); journalist, author and Supreme Court scholar Linda Greenhouse; former Sen. John Warner (R-Va.); former Governor Gerald Baliles (D-Va.); and U.S. Senator Richard G. Lugar (R-Ind.). The 2015 fellow was news anchor, journalist and author Gwen Ifill.