Ifill to students: 'Expand the conversation'
News anchor, journalist and author Gwen Ifill visited William & Mary earlier this week to engage with students, faculty and staff as the 2015 Hunter B. Andrews Distinguished Fellow in American Politics.
"I think it's possible to have a broader understanding of everything — I think we're better people when we figure out why the world is around us, and I think the best place for that to happen is on college campuses," said Ifill.
During her visit, Ifill met with W&M President Taylor Reveley, had a closed session with Charles Center journalism students and visited multiple media classes.
Created in 1998 by friends of the former state senator and William & Mary alumnus who died in 2005, the Hunter B. Andrews Fellowship brings a notable journalist, politician or scholar to campus each year to talk with students, faculty and staff.
When speaking to students in Professor Monika Gosin-Wisniewski's Media and Society class on Tuesday, Ifill touched on a variety of topics including the reason she became a journalist, her role as moderator for two vice presidential debates and recent events including the attack on Charlie Hebdo and the Brian Williams scandal.
"There's time we have, there's time we lack and there's the ability to take advantage of both things," said Ifill. "The clock is on the wall, but you have to look up. This means you have to take risks. You have to take risks even when it doesn't seem like it's worth it. You have to choose hope over despair, or worse cynicism and apathy. This is why I do what I do."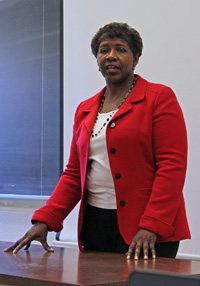 After presenting her definition of politics, citizenship and journalism, Ifill engaged with the students by taking their questions, which ranged from the effects of satirical news on the current generation to the most difficult news piece she has ever covered.
"Journalism can expose the conversation. It should expand the conversation not shrink it," said Ifill. "That's what you can do; expand the conversation not shrink it. I think it's the future for a just society, it's the future for journalism and it's the future for the way we interact as citizens."
When asked about apathy in the current generation, Ifill noted how a college education comes with the responsibility to be engaged in the world.
"The fact that you are in a four-year college, especially one like William & Mary, means that you're automatically part of the elite," said Ifill. "If you're automatically part of the elite that means it comes with responsibility to be more than just about yourself, and however you choose to work that out, you choose to work that out."
Ifill also emphasized that students can be the necessary voice to keep politics transparent while creating change if they look beyond what's right in front of them and ask questions.
"Your voice can invest in the power of possibility. It can relish and exploit the unexpected. It can claim the path that you probably never intended to take when you got here," she said. "There's a lot of work to be done, and only a select few people can really do it, and they have to be in that cohort. You have to be among the people who are willing to not to look down but to look up, because there's information out there to be had."
Known to many as co-anchor of PBS NewsHour and managing editor/moderator of Washington Week, Ifill is a native of New York who has been in journalism for nearly three decades. She has covered seven presidential campaigns and has moderated the vice presidential debates twice, most recently in 2008. Ifill is also the best-selling author of The Breakthrough: Politics and Race in the Age of Obama.
She has been honored for her work by the Radio and Television News Directors Association, Harvard's Joan Shorenstein Center, The National Association of Black Journalists and Ohio University, and was included in Ebony Magazine's list of 150 Most Influential African Americans. Ifill most recently received the Al Neuharth Award for Excellence in Journalism.