Tribe Athletics in 2016: an abundance of achievement
You couldn't script two more bizarre scenarios.
William & Mary's baseball team trailed North Carolina Wilmington, 8-1, in the top of the ninth inning of the Colonial Athletic Association (CAA) tournament last spring. Having already lost once, another defeat would end the Tribe's season.
Instead, W&M scored seven times in the ninth inning to force extra innings – but not until the next day. First, the teams had to wait out a delay due to Tropical Storm Bonnie.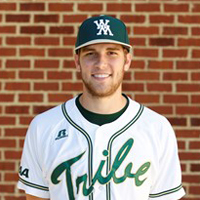 The next day, Cullen Large '18 won the continuation with a home run in the 12th inning, and Josh Smith '16 blasted an eighth-inning grand slam to seal the second game, CAA title and NCAA tournament bid.
In Charlottesville, W&M again lost the first game, to the University of Virginia, before coming back to topple second-seeded Bryant. That set up a rematch with the Cavaliers, with the Tribe bouncing the defending national champions from the tournament with a stunning upset.
Coach Brian Murphy led the Tribe to wins in six consecutive elimination games during May and June – and a grand total of 31.
Overall, the William & Mary athletic program enjoyed a stellar 2016 in practically every sport.
The football team was ranked in the top 10 among I-AA teams during the preseason, but the season itself proved trying. Twelve players who were on the two-deep chart at the start of the season missed at least three games due to injury. Among those was the team's all-conference punter, Hunter Windmuller '17, and placekicker Nick Dorka '18.
Although the team finished with a 5-6 record, eight players earned all-CAA honors, with offensive lineman Jerry Ugokwe '17 named to the first team and star running back Kendall Anderson '17 among four players named on the second team. The Tribe ended the season in style, hammering archrival Richmond, 34-13, on Senior Day.
Men's basketball finished last season with a 20-11 record, the third time the W&M program has enjoyed three consecutive 20-win seasons since 1951. Terry Tarpey '16 and Omar Prewitt '17 shared the Tribe's most valuable player award. Prewitt was first-team All-CAA after averaging 17.8 points per game.
Women's basketball suffered a disappointing loss to Towson in the CAA tournament to finish 15-15 for the second year in a row. W&M was led by two all-conference players, second-team selection Alexandra Masaquel '17 and third-team choice Marlena Tremba '17.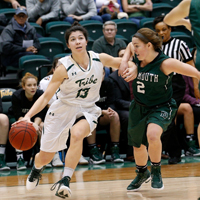 Men's gymnastics placed eight individual competitors at the NCAA championships. Aria Sabbagh '17 (79.2) and Jack Hasenkopf '19 (76.8) both competed as all-arounders and placed 10th and 11th, respectively. Simon Casey '16, Nick Van Dyke '16 and Griffin Antle '18 competed in multiple events. Antle placed 15th on pommel horse (14.35) and 31st on parallel bars (13.35), while Van Dyke finished 27th on vault (14.25) and 30th on rings (13.55). Casey tied for 33rd on vault (13.8) and placed 36th on pommel horse (12.45). Jacopo Gliozzi '19 earned a 14.4 on pommel horse to finish 14th, while Rob Meyer '17 placed 23rd on parallel bars (13.65). David Allen '19 competed on high bar and tied for 27th with a 13.35.
Women's gymnastics tied for second at the ECAC championship. Brittany Stover '16 qualified for the NCAAs, finishing 12th in the all-around.
Women's soccer recorded its NCAA-record 36th consecutive winning season in fall 2016 and advanced to the CAA semifinals for the sixth straight season. Coach John Daly became the sixth Division I coach and 13th NCAA coach to win his 400th career match with a 2-0 win at UNC Greensboro on September 11. W&M joined Connecticut and James Madison as the only other schools that have had a 400-win coach in both women's and men's programs. Clara Logsdon '17 was tabbed as the CAA co-defensive player of the year and to the league's first-team. Rachel Moore '18 joined Logsdon on the first-team, while four other players claimed All-CAA honors.
Men's soccer won 12 games in fall 2016 – most since 2010 -- on their way to a berth to the CAA Championship match. The team put together a pair of five-match winning streaks, the first time that's happened in a single season since 1996. Antonio Bustamante '19 led the team with 10 goals, four assists and 24 points. His 10 goals were the most for a Tribe player since Alan Koger recorded 10 in 2010. He earned First-Team NSCAA All-Midwest Region honors and All-CAA first-team honors. Six other players earned all-conference honors.
Women's track & field sent six women to the NCAA qualifying meet in four events at the University of North Florida. Regan Rome '18 finished seventh in the nation in the 5,000m run, where she came in seeded no better than 10th but pulled off the upset to earn the Tribe a pair of team points and a tie for 54th overall out of 66 teams at this year's national championships.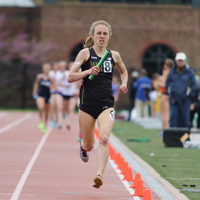 Men's track & field finished the IC4A Championships with one of the best finishes in school history, tying for fourth place out of 43 teams with 47 team points. Hampton won the team title by a single point, 66-65 over Albany, while Liberty was third with 49.75 and Rutgers tied the Tribe for fourth.
Men's swimming defended its CAA title, winning 12 events and setting the league record for points scored and winning margin. W&M piled up 969.5 points over four days, easily out-distancing second-place Drexel (572) and the field. The Tribe's 969.5 points not only beat last year's school record of 784.5 points by nearly 200 but also surpassed the conference record of 832 points set by James Madison in 1997.
Women's swimming won its second CAA championship, winning three events on the final night to claim the title, first since 2007.
Overall, the men's and women's programs sent four to Omaha, Nebraska, for the U.S. Olympic Trials: Jeremiah O'Donnell '16 (100m breaststroke and 200m breast), Will Manion '16 (100m back) and sisters Jamie Miller '17 and Annie Miller '19 (50m free).
Women's tennis won the CAA championship and advanced to the NCAA tournament for a first-round match against Texas, which won, 4-2. Elizaveta Nemchinov '16, who became the first Tribe player to advance at the national singles event since 2008, fell to 14th-ranked Frances Altick of Vanderbilt.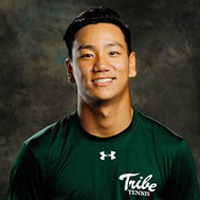 Men's tennis capped the 2016 campaign by garnering its best ITA regional ranking since 2010. The Tribe came in at No. 5 in the ITA Atlantic Region. The doubles team of Scott Huang '16 and Christian Cargill '18 received a regional doubles ranking as well at No. 6. The Tribe finished the season at 15-9 overall and spent part of the year in the ITA national rankings for the first time in five seasons.
Women's cross-country cruised to its fourth CAA title in a row and 21st overall. All-Americans Regan Rome '18 and Emily Stites '16 shared the CAA athlete-of-the-year award. Rome was the Tribe's No. 1 runner in all but one race, and finished 25th at the NCAA championships. Stites won the conference title by nearly 15 seconds before an injury ended her season.
Men's cross-country finished with 350 points to finish 11th out of 32 teams at the Southeast Regional championship, just seven points out of the top 10.
Women's golf finished third in the CAA. Alessandra Liu '16 advanced to NCAA regionals, finishing in a tie for 29th. She was named the women's golfer of the year by the Virginia Sports Information Directors, the first W&M golfer ever so honored.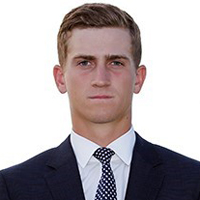 Men's golf finished sixth in the CAA. David Hicks '19 was named second team all conference.
Women's volleyball finished 10-19, and was defeated in the CAA quarterfinals. Carolyn Albright '16 was named to the CAA all-academic team.
Women's lacrosse finished with a 7-9 record. Standout defender Abby Junior '17 was selected to try out for the 2016-17 U.S. Women's National Team.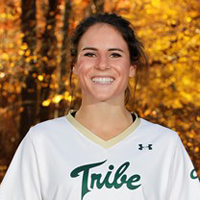 Women's field hockey finished its season at 7-12. Pippin Saunders '16 earned a spot on the All-CAA first team for the third year in a row. Saunders finished her career fifth all-time in school history with 98 points, second all-time with 22 assists, and tied for sixth all-time with 38 goals. Booter Ellis '18 made second team.