Jamestown to Flint: a symposium on medicine, arts, social justice
The Africana Studies Program Middle Passage Project of William & Mary has coordinated with Eastern Virginia Medical School (EVMS), the W&M Lemon Project and the Governor's School for the Arts to present the first Medicine, Arts and Social Justice symposium, "1619-2019: From Jamestown to Flint."
The symposium will take place on April 23 in the Tidewater Room at Sadler Center. Sponsored by the W&M Africana Studies Program Middle Passage Project, the symposium runs from 9 a.m. to 4 p.m. and is free and open to the public. The one-day symposium has been organized by Frances L. and Edwin L. Cummings Professor of the Humanities Joanne Braxton's "Medicine, Arts and Social Justice" students as a practical aspect of their coursework this semester. Gavin Oplinger and Michaela Rossi are co-coordinators of the event.

Teresa Babineau, associate dean of atudents at EVMS and a member of the  William & Mary-EVMS Narrative Medicine for Excellence team, will give the keynote address at 1 p.m. Her subject is entitled, "Everyone Has a Story: Narrative Medicine as Social Activism." Other participants include Assistant Visiting History Professor Jody Allen, managing director of the Lemon Project, and Associate Professor of Theatre Artisia Green of the Africana studies program. Green is also a member of the William & Mary-EVMS Narrative Medicine for Excellence team.

{{youtube:medium:center|4NgNVREgmno, The Leah Glenn Dance Theater performing Hush}}
The symposium will feature morning presentations by W&M students on issues ranging from cross-cultural medicine and the international refugee crisis to the impact of trauma and the importance of trauma management, especially for those in the helping and healing professions. The presentations, grouped thematically, are aimed at shedding light on the vast range of health care and social justice issues present across multiple disciplines.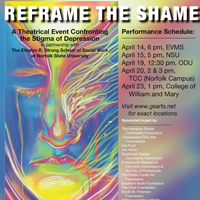 Following the keynote address, actors from The Governor's School for the Arts theatre department will perform "Reframe the Shame." The goal of this work is to spread awareness about the stigma surrounding mental illness as it reflects the thoughts of youth who struggled with depression, especially after being bullied. The script for the performance, built collaboratively by Steve Earle of the Governor's School with colleagues from Norfolk State University, comes from anonymous transcripts from real people who consider themselves to be depressed and have contemplated suicide.   
Dancers from the Leah Glenn Dance Theatre will also perform a piece, "Hush," about the communication and relationship between a parent and her autistic child.