Remembrance, hope: Williamsburg embraces Orlando
They read the names from Orlando:
"Edward Sotomayor ... Stanley Almodovar ... Luis Omar Ocasio Capo ... Juan Ramon Guerrero ... Eric Ivan Ortiz-Rivera…."
During a 75-minute "Remembrance and Hope" service at William & Mary's Commonwealth Auditorium Monday night, several hundred faculty, students, staff and local community members gathered to memorialize the 49 people who were killed during a June 12 nightclub shooting in Orlando, Florida.
George Greenia, William & Mary professor emeritus, and student Katie Baldewin '17 paused after each name, allowing the audience a moment to imagine what they may have looked like, ponder what they might have done for a living – anything to make them more than a victim or sad statistic.
The congregation heard prayers and commemorations from Jews, Hindus, Muslims, members of the LGBTQ community, Baptists, Lutherans, Methodists, Episcopalians, Unitarians and Presbyterians.
David Katz, a rabbi, led the Jewish Mourning Prayer, both in Aramaic and English, ending with "May the one who creates harmony above, make peace for us and for all Israel, and for all who dwell on earth."
Andy Ballentine, pastor of St. Stephen's Lutheran Church, prayed for healing for "all people whose fear of others bears the fruit of anger and suspicion and hatred. Where hearts are fearful and constricted we pray you give courage and hope. Where anxiety and despair is infectious and widening, we pray you give peace and reassurance."
There was condemnation of the attack, carried out by a single male shooter who claimed allegiance to ISIS.
"Let me tell you that whatever religious ideology he claims to follow, he and I do not follow the same Islam," said William & Mary student Ayat Elhag '17.
Elhag also pledged that the Muslim community would stand in solidarity with the LGBTQ community.
"These innocent victims are not your victims," she said. "They are you, and me, and all of us."
There were many calls for compassion and mutual understanding, as expressed by John Whitley of the Williamsburg Unitarian Universalists. He read a missive from the All Dulles Area Muslim Society saying, in part:
"This horrific Orlando attack should not be used to vilify and stereotype the peaceful, law-abiding Muslim community in America. Islam absolutely condemns and forbids terrorism and extremism ... Islam promotes the sanctity of human life, the dignity of all humans and the respect for human and civil rights. Islam teaches religious freedom and emphasizes the same universal moral values accepted by the majority of people of all backgrounds. These are the same principles on which the U.S. Constitution was established and the Bill of Rights was approved."
And, there were pleas for action.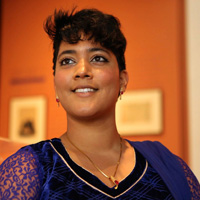 Pallavi Rudraraju '17, president of the Hindu, Sikh and Jain Students Association, made a seemingly simple request.
"If there's one thing I'd ask you today, it would be to make available your religious space to queer people," she said, before singing the Hindu Prayer of Sending. "There are too many religious queer people who do not go to their places of worship because they are afraid of being shunned."
Charles Swadley, faith outreach coordinator for the Virginia Interfaith Center for Public Policy, agreed.
"We [must] invite the LGBTQ community to engage in conversation in our places of worship," he said, "to be with us. We ask our places of worship to provide a safe space to reveal ourselves and to offer the hospitality to receive strangers and transform them into friends … We need to invite the Muslim community to help us know them as neighbors and to remove the fears of the unknown."
Leslie Revilock, advisor to the Compassionate Action Board and I-Faith, William & Mary's interfaith student group, read the university's Charter of Compassion, in part saying, "The principle of compassion lies at the heart of all religious, ethical and spiritual traditions, calling us always to treat all others as we wish to be treated ourselves. Compassion compels us to work tirelessly to alleviate the suffering of our fellow creatures, to dethrone ourselves from the throne of the center of our world and put another there, and to honor the viable sanctity of every single human being, treating everyone – without exception – with absolute justice, equity and respect."