Olympic swimming a family affair for Gomez
The power of family will be on display for the world to see when Team Gomez – including William & Mary sophomore swimmer Maicoll Gomez – enters the Olympic natatorium in Rio de Janeiro on Aug. 8.
Leading the way will be Jonathan Gomez, who will represent the family's native Colombia in the 200-meter butterfly, an event in which he defeated legend Michael Phelps in April in Mesa, Arizona. Joining Jonathan and Maicoll will be younger sister Valentina, who recently signed a scholarship to attend Central Connecticut State University. And last, but certainly not least, will be their mother, Clara Noriega, a former member of Colombia's national women's swim team.
"Our family is very proud of [Jonathan]," Maicoll Gomez said. "We have dreamt about going to the Olympics ever since we were little. Now that Jonathan has gotten the opportunity to represent our native country in the highest level of any sport, he will show the world what he is capable of."
Jonathan Gomez told The Jersey Journal that his family traveled with him to the Bahamas for the Caribbean Island Swimming championships, where he earned his spot on the Colombian team.
"I think my brother was even more excited than I was," Jonathan Gomez said. "It was pretty sweet to have family there."
Maicoll Gomez is no slouch in the pool, either. As a freshman last year, he qualified for the Colonial Athletic Association championship finals in the 200-meter butterfly and the 200-meter and 400-meter individual medleys.
Theirs is a friendly rivalry, Maicoll Gomez said. Jonathan Gomez, 18 months older, began swimming in Cali, Colombia, at age 7 because his doctor said it would help with his asthma. He immediately became a star at every level, setting multiple national age-group records, records that Maicoll Gomez broke when he came of age.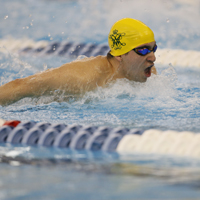 "We've always been close," Maicoll Gomez said. "We always help each other be faster by either me helping him fix his turns or him helping me fix my kick. We're family, and we'll always have each other's back.
"When we're in the pool, we ask each other if one could go a certain time, and we will sprint the entire practice just trying to out-touch the other. So one could say practice gets intense, but never at a point where it would get out of hand."
Under the guidance of Coach Mohamed Abdelaal, who has produced a second Rio Olympian in Croatia'a Matea Samardzic, the Gomezes have participated in intense workouts helping Jonathan prepare for Rio.
A typical practice session would include warm-up, drills, and a "pre-set" designed to get their heart rates ready for the main workout. Those sometimes range from 2,000 to 5,000 meters of high-intensity intervals – and normally can last up to three hours.
"Having two Olympians as training partners raises the level of how fun practice is because not everyone gets a chance to compete, train and live with an Olympian," Maicoll Gomez said. "Having your brother make his dream come true is an everyday reminder that with hard work and dedication, Valentina and I will get there in four years, with the help of God."
Maicoll Gomez hopes the extent of his Olympic experience isn't just watching his brother. The 2020 Tokyo Olympics have long been on the list of goals he and his sister set, although before that takes place, they aspire to compete in the World Championships, the World Cup, the South American Games and other competitions.
"Every day we work on our dream to get better and each one of us pushes the other," Maicoll Gomez said. "If one of us improves, we all improve."