Efforts to prevent sexual assault, harassment continue at W&M
One year after William & Mary's Task Force on Preventing Sexual Assault and Harassment concluded its work, the university continues to make strides in implementing its recommendations.
Chief among those actions was the creation of a coordinating committee to continue the work of the task force and bring about such changes as revisions to policy and procedures, training for faculty and staff and increased awareness of resources.
Those efforts and more are outlined in W&M's first annual report on sexual misconduct prevention and response, recently issued and posted online by Kiersten Boyce, William & Mary's Title IX coordinator. Vice President for Student Affairs Ginger Ambler sent the report in an email to the student body at William & Mary in early September, and Boyce discussed it with the Board of Visitors' Committee on Audit and Compliance last week.
"The goal is to implement the recommendations of the task force but, beyond that, to make sure this issue is staying at the forefront of our community," said Dean of Students Marjorie Thomas, chair of the coordinating committee. "I hope that sends the message that this isn't a temporary gap-fill; this is something we're committed to for the long haul."
Some of the areas in which the coordinating committee — which includes faculty, administrators and undergraduate and graduate students — has been making progress include:
Personnel
Two new investigator positions were created in the Title IX office to help ensure prompt case resolution, and a sexual violence prevention specialist was hired to lead prevention efforts on campus.
In addition, a director was brought on for The Haven, a confidential resource center for students affected by sexual violence or harassment, abusive relationships or gender-based discrimination.
These new personnel join the collaborative Title IX staff, said Boyce — W&M's interdisciplinary team of administrators dedicated to sexual violence prevention and response.
Training and Education
At the end of 2015, all faculty and staff completed training on Title IX and the Violence Against Women Act (VAWA). Current employees will also now be required to participate in ongoing training with the Haven for Faculty and Staff course, which will be rolled out soon.
In addition, the mandatory online educational program for freshmen and transfer students (Haven) has been improved, said Boyce, and on-campus orientation programs updated.
Communications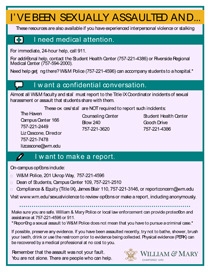 Efforts to make the campus community aware of the resources available to them have continued, with an update to the poster campaign that began last summer. The posters are hanging in locations throughout campus, and were distributed to students at the beginning of the fall semester when they picked up their residence hall keys.
Additionally, the sexual violence website now includes information on reporting responsibilities for faculty and staff, and the compliance website includes information on pregnancy and lactation rights and LGBT resources. The site also now includes a section with historical Title IX statistics for the campus.
Policies
The university's sexual misconduct policy, which was modified last year to cover faculty and staff, was further revised last month to simplify some definitions and expand explanations of consent and incapacitation, said Boyce. That work included collaboration with 16(IX)3, a student group that seeks to end sexual violence.
"We hope that these updated explanations, which were drafted working closely with students from 16(IX)3, will help our education and prevention efforts," Boyce added.
Procedures
William & Mary just completed its first year using an investigation-based model to address student sexual misconduct reports, moving away from the historical hearing-based model. As part of that change, William & Mary is now conducting Title IX team assessments of all reports of sexual harassment and misconduct, allowing each party in an investigation to use the advisors of their choice and specifying timelines for significant phases of the process. The procedure was just published in its final form with minor refinements, Boyce said.
Additionally, William & Mary adopted a new, consolidated procedure to address reports of faculty or staff sexual misconduct, harassment or discrimination. This new procedure will help the university resolve employment cases promptly and fairly, said Boyce. 
The university also created a central reporting portal, consolidating what previously existed on multiple sites. People may make anonymous, partial-disclosure or full-disclosure reports through the system. This system is used to log and track reports and complaints through every step of an investigation.
Working with local hospitals, the Title IX office also improved information for students about obtaining physical evidence collection recovery collection (PERK) information to possibly use in campus or criminal investigations. Information on where campus community members may receive a PERK exam has been added to the university's sexual violence website.
Evidence of change
While the coordinating committee worked to make changes during the last year, reports of Title IX violations increased. In the 2014-15 academic year, 21 reports of sexual harassment, 16 of other misconduct and seven of sexual assault were made. Last year, 30 reports of sexual harassment, 20 of other misconduct and 31 of sexual assault were made.
The increase in reports, said Boyce, likely means that efforts to increase awareness of resources and improve processes are working.
"Sexual assault historically has been underreported, as a general matter, and the climate survey showed us that it was underreported here at William & Mary. We wanted to change that — and we have," she said.
Although Boyce can't predict how those numbers may change in the future, she is heartened that more survivors feel comfortable with reporting sexual assaults and other forms of misconduct.
"We are building a campus culture in which harassment is not tolerated, and in which everyone —students, faculty and staff — knows how and when to report an incident," she said. "We have also built strong investigation processes and support systems."
Next steps
In the past few years, the national landscape around the issue of sexual assault has been in flux, said Thomas, with significant changes to state and federal legislation.
Like many other colleges and universities, William & Mary has worked to better understand and address sexual assault and related issues, and the coordinating committee hopes to continue that work for many years to come in conjunction with such students groups as Health Outreach Peer Educators, 16(IX)3 and the Student Assembly.
Two student representatives from the assembly, J.C. LaRiviere '17 and Rachel Smith '17, presented the Board of Visitors last week with a list of priorities students would like to see addressed in relation to sexual assault prevention and response.
In the 2016-17 academic year, the coordinating committee aims to develop a three-to-five year strategic plan to address sexual assault and harassment. In addition, the committee hopes to expand prevention efforts, administer another campus climate survey and guide the faculty and staff training effort. Title IX staff are also continuing to work on Task Force and committee goals of improving the timeliness of investigations and communications during investigations.
"I think overall, we've made a lot of progress," said Thomas. "We also understand there's a lot of progress to be made."