W&M Tribe Night to offer a celebration of cycling
The William & Mary community will have the chance to watch the cycling world championships taking place in Richmond next week without having to leave Williamsburg.
A W&M Tribe Night will be held on the lawn of the Art Museums of Colonial Williamsburg Sept. 23 as part of Spoke & Art, a seven-day celebration of Williamsburg's cycling and walking culture featuring live, big-screen coverage of the UCI World Cycling Road Races. The Spoke & Art celebration is presented by Eco Discovery Park and sponsored by Williamsburg Event Rentals.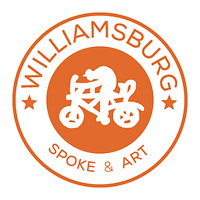 The W&M night event, scheduled for 5 to 9 p.m., will feature music by the Dog St. Boys, a tented sports bar and William & Mary's Wholly Habaneros food truck, which accepts Dining Dollars.
The lawn of the Art Museums of Colonial Williamsburg is located on the corner of South Henry Street and Francis Street. Admission to the event is free.
According to its website, "the Road World Championships (Worlds) is cycling's pinnacle event, held annually in an international city as chosen by the Union Cycliste Internationale (UCI) through a competitive bidding process similar to the Olympic Games." The 2015 races will be held Sept. 19-27 throughout Virginia's capital city. According to a Richmond Times-Dispatch article, this is the first time the championships have been held in the U.S. in almost 30 years.
Cycling has gained increased attention at William & Mary in recent years, with the
William & Mary Bike Alliance
getting its formal start in 2013. The alliance, formerly known as the W&M Bike Initiative, is "a group of students, staff, administrators, and faculty who wish to create an environment conducive to cycling at William & Mary," according to its website. The group offers group cycling opportunities as well as information on routes, repairs and campus guidelines.