W&M to host event featuring AMC's 'TURN: Washington's Spies'
William & Mary will present a discussion, "Television, History and Revolution," Tuesday, Feb. 3 at 7 p.m. in Phi Beta Kappa Hall. The event will feature cast and producers from AMC network's Revolutionary War drama, TURN: Washington's Spies as well as faculty from William & Mary. The event is free and open to the public.
Space will be limited; people planning to attend should let organizers know via www.wm.edu/turn.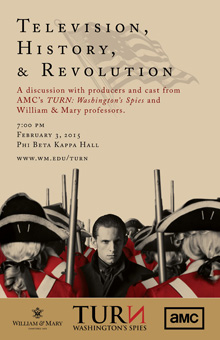 The production filmed scenes for their second season on the William & Mary campus at the beginning of the fall 2014 semester. The opening scene for season two, which was shot in the Great Hall of William & Mary's Wren Building, will be premiered at this event.
TURN: Washington's Spies will return to AMC with 10 new episodes in spring 2015. The series stars Jamie Bell as Abraham Woodhull, a farmer living in British-occupied Long Island during the Revolutionary War, who bands together with a disparate group of childhood friends to form the first American spy ring, the Culper Ring. Together they risked their lives and honor, and turned against family and king, for a fight they believed in passionately, ultimately helping George Washington turn the tide of the war.
Both of the show's executive producers, Craig Silverstein (Nikita) and Barry Josephson (Bones), along with author Alexander Rose, will join the discussion. The series is based on Rose's book, Washington's Spies. Rose, who served as a consultant last season, joined the writing staff for season two. William & Mary History Professor and Department Chair Cindy Hahamovitch will moderate the event.
The panel will also feature Arthur Knight, associate professor of American studies, English, and film and media studies; Joshua Piker, professor of history and editor of the William & Mary Quarterly; Susan Kern, professor of history and executive director of the Historic Campus; and Karin Wulf, director of the Omohundro Institute for Early American History.
In addition to Bell, TURN: Washington's Spies also stars Seth Numrich as Ben Tallmadge, Daniel Henshall as Caleb Brewster, Heather Lind as Anna Strong, Kevin R. McNally as Judge Richard Woodhull, Meegan Warner as Mary Woodhull, Burn Gorman as Major Hewlett, Angus Macfadyen as Robert Rogers, JJ Feild as Major John André, Samuel Roukin as Captain John Simcoe and Ian Kahn as George Washington. Newly joining the cast for season two are Ksenia Solo as Peggy Shippen and Owain Yeoman as Benedict Arnold.
Filmed entirely on location in Virginia, the show's second season will also include a number of scenes shot at various locations in Colonial Williamsburg's Historic Area. Additional production locations in Virginia include Tuckahoe, the Old Town area of City of Petersburg which will double for New York and Philadelphia; as well as various historic sites and parks in Hanover County, Henrico County, and Charles City County.