Surprise! Finley related to 'Roots' show host
This is part two of a two-story series. The link to part one is to the right. - Ed.

The secret is out: William & Mary graduate student Alex Finley and "Finding Your Roots" host Henry Louis Gates, Jr., are relatives.
The surprising connection was revealed during the Nov. 25 season finale of the PBS show. Finley, a Ph.D. candidate in History who is studying the domestic slave trade and the finance and business practices of slave traders in the antebellum period, met Gates in West Virginia.
It was Finley's historical research on her family while an undergraduate at Ohio State that attracted "Finding Your Roots" producer Hannah Olson. Finley wrote about the Mayle family – or Male, as it's also known – who came to what was then western Virginia from Dover, England. Eventually, Wilmore Mayle, Jr., began a relationship with a slave he owned named Nancy. Shockingly for a time when mixed-race marriages were illegal, he offered to free her if she would agree to live as his wife. From then on, various records of the day listed Mayle as white or black or mulatto. They had six children and settled in an area of West Virginia's Eastern Panhandle and Potomac Highlands regions known as Chestnut Ridge, near Philippi, where they helped form a mixed-race enclave far from the outside world.
"I'd never heard of Chestnut Ridge before," admitted Gates, who was raised just 80 miles away in Piedmont.
Finley said the producer didn't immediately tell her of her relationship with Gates, who serves as director of the Hutchins Center for African and African American Research at Harvard University.
"She told me that she was interested in my thesis and, in fact, they had someone they were featuring who was related to the family I'd written about and they wanted to ask me a few questions," Finley recalled. "Of course I was really excited.  We talked on the phone a couple of times, with her and a couple of other producers, and then she told me that Gates was the person related to the people I'd written about.
"Again, I'm thrilled, because I'm also related to the community I'd written about, so by default, I was related to Henry Louis Gates."
The show's producers arranged for Gates to travel to Philippi, and asked Finley to meet him there. The trip coincided with the Mayle family's annual "Heritage Day," where ancestors from as far away as California come for a reunion. According to Finley, also there were people interested in genealogy. A picnic-style buffet was served, photos and family trees were inspected and Finley was the principle participant in a slight twist from the show's normal format.
"We did the part where Gates presents the celebrities with documents showing who they're related to, and I got to do that for Dr. Gates," she said. "I presented him with some documents that were important to the story of the individual that he's related to."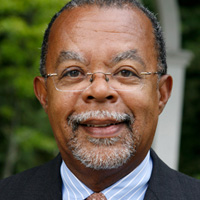 On the show, Gates refers to Finley as "my new cousin and the family historian." The two are shown walking the streets of Philippi together, and sitting at a table, discussing their family.
"It was surreal to see myself on television but I'm happy with how it turned out," she said following the show's airing. "I thought the show did a great job telling the story of the Mayle family in all its complexity. I am excited to share this story with the public. I think the history of the Mayle family is emblematic of the multicultural roots of our nation and is a past we should celebrate."
Finley called Gates "a great inspiration to me," and said they stayed in touch throughout the show's production process.
In addition to finding a host of new relatives and having her family's intricate history seen by millions of viewers, Finley'a relationship with Gates has led to one other very important development.
"I am honored to say he has agreed to serve on my dissertation committee," Finley said.