'Hunting Ground' continued campus conversation on preventing sexual assault
William & Mary Global Film Festival Director Timothy Barnard went to the Sundance Film Festival in January looking primarily for foreign movies that would support the festival's 2015 theme of "Film and Renewal."
In the end, an American-made documentary on campus sexual assaults – The Hunting Ground – found him, and ultimately led to W&M becoming the first university in the nation to offer a sneak preview of the film as part of the festival last weekend. The film offered a sobering look at the issue of campus sexual violence – and the handling of cases by universities, police and prosecutors -- through the personal stories of survivors at several institutions across the country.
Although Barnard and co-programmer and distribution manager Kate Previti – herself a survivor of rape – led the charge to bring the movie to campus, The Hunting Ground very quickly became a university-wide event.
The university's Task Force on Preventing Sexual Assault and Harassment, formed in September, together with the Student Assembly, provided funds to bring the film's main protagonists, Andrea Pino and Annie Clark, to campus to present the film and meet with students.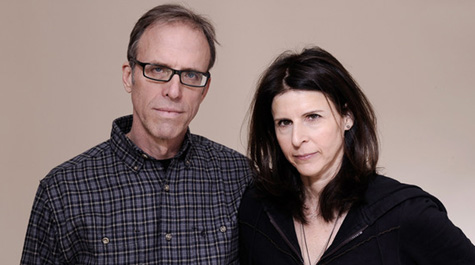 The film narrates the experience of the two women, who were raped while students at the University of North Carolina and ultimately joined together to create EROC (End Rape on Campus), a national organization that travels the country consulting with college victims of sexual assault. Following a question-and-answer session with the audience on Sunday, Clark and Pino were presented with the GFF's "Rising Young Talent" award. Though unable to attend, director Kirby Dick and producer Amy Ziering were awarded the festival's "Global Film Can" award.
"This film is an opportunity for William & Mary to play a leadership role in the national conversation that must take place," Barnard said. "It's also an opportunity for William & Mary to renew its commitment to all of its students."
Two full houses of students, faculty, staff and community members – one at the Kimball Theater on Friday, one at Andrews Hall on Sunday – watched the sneak preview of the powerful documentary. Aware of the potential impact the film could have on attendees, William & Mary's Student Affairs staff implemented several steps.
Festival programs included an insert listing counseling and shelter resources in the Williamsburg area. At each showing, counselors from The Haven, a campus facility where survivors of sexual assault may find support, advocacy and empowerment, were on hand for anyone who needed them, not just W&M students. Private sessions were available upon request.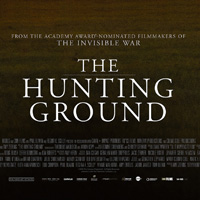 Several administrators attended the screenings, including President Taylor Reveley, Provost Michael R. Halleran, William & Mary Police Chief Deb Cheesebro, Senior Vice President Sam Jones, Kiersten Boyce, Title IX Coordinator at the university and Vice President for Student Affairs Ginger Ambler, who is chair of W&M's Task Force.
Ambler said members of the Task Force appreciated the opportunity for William & Mary to screen the film on campus.
"Anything that elevates this issue to community-wide attention will help us do our work better," Ambler said. "What we want is for members of the William & Mary community – faculty, staff and students – to be engaged, to be part of the solution and to be knowledgeable about what sexual assault looks like on a college campus."

Reveley, who formed the Task Force, charged it with coming up with recommendations in four areas: campus climate, prevention and education, training for faculty and staff and investigation and adjudication. The recommendations are due to Reveley by June 30, 2015.
The Task Force is also examining W&M's sexual misconduct policy and procedures – from the definition of consent to how the university conducts investigations. William & Mary is one of more than 90 universities nationwide whose sexual assault policies and procedures are under review by the Office of Civil Rights.

"The Task Force has been looking at everything from education and prevention to response and how we adjudicate cases," Ambler said. "The film has successfully raised awareness campus-wide, and I hope it will empower people who want to share their thoughts and feelings to take part in one of our scheduled focus groups so the Task Force can hear what they have to say."
Had Barnard not experienced an epiphany of sorts while at Sundance, the film never would have made its way here.
"I had open programming slots when I went to Park City [Utah] and when I re-read the description of The Hunting Ground it suddenly snapped – it is a film about renewal – and it's personal because I'm a university professor," he said. "I kept thinking about my own students, their experiences.
"I got to the screening, and I was just blown away by the film. It was so powerful, so heart-breaking and so infuriating."
After the screening, and after Dick, Ziering, Clarke and Pino had engaged the audience in a question-and-answer session, the film's campus tour organizer announced that she was looking for colleges willing to show the movie.
"I immediately scooted over and sat next to her and said, 'I will do anything and everything I can to bring this film to William & Mary," Barnard recalled. "Not just that, but our Global Film Festival is in a month, and I want to make this a marquee showing."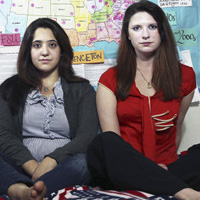 Previti took over from there, forging relationships with the film-making team and then with officials of the Weinstein Company's Radius division, the film's distributors. Ultimately, she made significant inroads with Pino, Clarke and top campus officials.
"Because of her dedication to the GFF and her bravery as a rape survivor, this film came to William & Mary first," Barnard said. "She was able to make the case for the film festival and how we would treat it special and put the resources behind it.
"Through her establishing a relationship with the film-making team, we were able to assure them, 'We want to use this as an opportunity for William & Mary to screen this film and respond to it with a clear message that we as a university want to stand with these survivors and do everything we can to not represent or accept the institutional situation that this film portrays. We want to take this as our cue to lead, to offer visions of change, to embrace this film and to commit to change.'"