W&M to celebrate hip-hop collection's first anniversary
Swem Library made headlines last year when it established the William & Mary Hip-Hop Collection to chronicle Virginia's hip-hop history.
On April 3, the library will celebrate the collection with an event featuring performances by local hip-hop groups and DJs, a lecture by Mark Anthony Neal, a panel discussion, a display of Hip-Hop Collection artifacts and more. The Second Annual Hip-Hop Collection Celebration will be held from 1 to 6:30 p.m. in Swem Library. It is free and open to the public and sponsored by Swem Library, Alma Mater Productions (AMP) and the American Studies Program.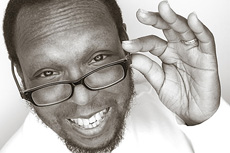 The celebration will begin at 1 p.m. with a welcome and banner induction in the Read & Relax area. Neal, a professor of black popular culture at Duke University, will give his keynote address at 1:10 p.m. in the same space.
From 1:30 to 3:45 p.m., performances by J'sar, Intalek, the Virginia Grind Family and W&M graduate Jerome Waller '13 (aka J.B. da Pilot) will take place on an outdoor stage, near the sundial. Additionally, from 1 to 4 p.m., a Virginia artist will create a mural on the patio of the library's Special Collections Research Center.
Local DJs including DJ Bee of Fresh Radio will spin records, and W&M's S.M.I.L.E.S. Crew will dance in the Botetourt Gallery from 2 to 4 p.m.
From 4 to 5 p.m., the library's Special Collections Research Center will host an open house and display materials from the collection; a reception will be held at 4:15 p.m.
Finally, from 5:30 to 6:30 p.m., a panel discussion on "Neglected Communities, the Grey Economy and Cultural Creation" with Mustafa Malik Shabazz, Rashid Shabazz, Zulu Queen MC Lisa Lee and Quinelle Holder will be held in the Read & Relax area.
The W&M Hip-Hop Collection, launched on April 19, 2013, is dedicated to Virginia's hip-hop culture and history. The collection includes oral histories committed to documenting Virginia's hip hop past, as well as recordings of hip hop music, publications, and materials created by Virginia and Virginia-based artists, groups and businesses. Additionally, the collection documents the origins and impact of hip-hop culture on college campuses throughout the state.
For more information on the event and collection, visit the Swem Library
website
.