New collection documents Virginia's hip-hop history
Antiquated manuscripts, rare books and memorabilia from the William & Mary's storied history are all among the items one would expect to find when searching through Swem Library's Special Collections. 
Among the letters, artifacts and other scholarly records from ages past, researchers will soon be able to discover such artifacts as SMILES Crew's first boombox or a cassette tape of Mighty MCs recordings. 
On April 19, Special Collections will launch the William & Mary Hip-Hop Collection, the most comprehensive collection of its kind devoted to chronicling Virginia's hip-hop past from the 1980s to the present through oral histories, recordings, publications and other ephemera created by Virginia-based artists, collectives and businesses. 
"We, as an institution, have been collecting music for a century. What prompted the vision of starting a hip-hop collection is the need to look at the space we are at in the history of hip-hop," said Amy Schindler, university archivist and Acting Marian and Alan McLeod Director of the Special Collections Research Center. 
"Hip-hop has been around since the 1970s, and we're in a space now where some of the early people are no longer with us. We need to work with people now to get that history," she added. 
'There is a Virginia sound'
While new to William & Mary, hip-hop collections are not cutting-edge developments in academia. Even so, the College's collection focuses on a niche undocumented elsewhere: Virginia's role in the development of hip-hop. 
"A number of archives around the country, most at universities or other research institutions, have their own hip-hop collections. Some of them are very specific as far as the region or time period they document. For example, at Cornell, their collection runs from the 70s to the mid-80s in the Bronx," Schindler explained. "By comparison, what we're doing with the collection here is to focus on anyone who is a native of Virginia or whose work was influenced by their time in Virginia."
The idea for a hip-hop collection at William & Mary has its roots in the research of Kevin Kosanovich, an American studies doctoral candidate. In preparing his dissertation, which examines the history of the Bronx River Houses, the Zulu Nation and the emergence of hip-hop in the Bronx, Kosanovich employed the resources of Cornell's hip-hop collection.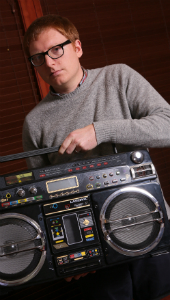 His involvement with Cornell's archive sparked a desire to see more of hip-hop's wider history preserved. 
"Coming out of that experience, I saw that there's room for a lot more to be archived and collected," Kosanovich said. "I realized that Virginia has a huge history, a deep history that hasn't really been documented in a state-wide or regional way. A lot of folks in Virginia aren't necessarily aware of what went on in Petersburg, Richmond or Virginia Beach."
Kosanovich has worked with Schindler on various projects since he arrived at the College in 2006 to begin his master's degree work, building a relationship that made the hip-hop collection possible. 
In September 2012, he brought his vision to Schindler who likewise saw the potential for such a collection at William & Mary. 
"We've developed a relationship over those years, which is why I felt like she would be receptive back in September. Even though she is a supervisor, she feels very much like a collaborator," Kosanovich said. 
Together, they've begun the process of preserving Virginia's role in the wider context of hip-hop history.
"Virginia is this crossroads. We're Mid-Atlantic. We're not New York, we're not Atlanta, but there are a lot of people traveling through Virginia, especially in Hampton Roads and this part of Virginia. People come here for the military and for college, then leave. We're curious what place Virginia has in hip-hop," Schindler said.
"There is a Virginia sound, and we want to let people know what that is."
'Closing the circle'
The W&M Hip-Hop Collection contains video and audio recordings—in CD, cassette and digital forms—as well as posters, artifacts and other ephemera not necessarily intended to stand the test of time. But what separates the College's archive from other hip-hop collections, aside from its concentration on Virginia's role, is its involvement of the people who gave Virginia its place in hip-hop culture. 
"One of the big things that makes our collection distinctive and unique, and what Kevin is spending most of his time on, is gathering oral history interviews by sitting down with individuals or groups of people, taking with them and getting their story," Schindler said. 
Kosanovich has interviewed many significant figures from Virginia's hip-hop community, both past and present, preserving their stories for future researchers. For instance, interviews with DJ P-Eazy of the BorNaturals, a significant group from Newport News, as well as Big B of the Boodah Brothers, documented these groups' influential presence in the development of Virginia hip-hop. 
During one such discussion, Kosanovich encountered a way of viewing the collection in cultural terms that might not seem apparent at first.
"In one of the oral history interviews we did, Antoine 'HenMusik' Henderson was talking about how this was a really great moment for him because we're right down the road from Jamestown. We're talking about a historically African-American cultural creation right down the road from the site where the first Africans were introduced to America. It's a really nice way of closing the circle in terms of the history of African-American experience in America," Kosanovich recounted. 
An academic resource
Beyond its historical setting, the hip-hop collection is poised to provide new academic insight to the College community and beyond. The collection, like all others in Swem's Special Collections, is open and available to the public, while much of the digital material is also available online when the donor or copyright allows. 
Schindler hopes that the collection will also become a resource for both researchers and classes on campus, highlighting the work of Chinua Thelwell as an example. 
Thelwell, a Mellon fellow and visiting assistant professor in Africana studies, is teaching a seminar on hip-hop history and culture with a focus on hip-hop studies as an academic subfield. 
"We fully expect that other classes, especially in American studies, music, and even history, and the community will engage with this collection," Schindler said. 
Kosanovich sees the collection as an important resource for the College as it moves into a new age of academia. 
"It's forward-looking—I really think that this is the next wave of important academic archives and collections that we are going to see nationally cropping up in the next 10 to 15 years," he said.
The launch
The William & Mary Hip-Hop Collection will be formally launched on April 19 at 6 p.m. with a full slate of events planned for the evening. 
According to Kosanovich, the launch event's schedule is designed to parallel the function of the archive itself by primarily demonstrating Virginia's hip-hop culture, but also showing how that culture came to Virginia. 
"This is an opportunity for people, even if they don't like listening to hip hop, to learn about music history in Virginia and also the US," Schindler said.