W&M alumnus creates Tang Professorship in economics
William & Mary has received a $1 million commitment from alumnus and former Board of Visitors member Michael Tang '76 to create a new professorship in the Department of Economics.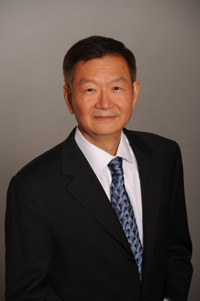 The Tang Professorship will be awarded to an outstanding faculty member and will provide a salary supplement in addition to research and/or teaching support. The professorship is the fourth endowed position in a 20-member department containing many professors nationally and internationally known for their work in areas ranging from health policy and economic development to experimental economics and the economics of higher education.
"We're extremely grateful for Michael's gift," said William & Mary President Taylor Reveley. "This kind of support is vital for the university to keep recruiting and retaining splendid faculty members. The Tang Professorship will greatly assist our efforts to do this in economics."
Tang's primary motivation for establishing the professorship was his belief that a foundation in economics is fundamental to understanding how the world works. "It gives people a higher level of common sense and drives good decision making," he said.
He also recognized the importance of leveraging the university's low student-to-faculty ratio and attracting professors who not only are outstanding teachers and researchers but devote personal attention to their students — as two of his own professors did.
As an undergraduate, Tang developed a close relationship with his adviser, Allen R. Sanderson, who now teaches at the University of Chicago. The two have maintained contact over the years.
"It was one of those William & Mary experiences where you get to know the professor and his family personally," Tang said. "He was also a great teacher."
Tang — who transferred to William & Mary as a second-semester freshman — grew similarly close to David H. Finifter, an emeritus professor of economics at the College.
"My colleagues and I are enormously appreciative of Michael's gift, which meets a real need in our department," said Economics Professor and Department Chair David H. Feldman. "Putting a high-quality faculty together with our excellent students is the William & Mary brand, and we hope his generosity will inspire others to pick up the torch of faculty support."
Vice chairman of Tang Industries and CEO of National Material L.P., Tang, in conjunction with the Tang Foundation, previously created the Tang Faculty-Student Research Endowment, which supports faculty and student research in Arts & Sciences. He was also an early supporter of the Thomas Jefferson Program in Public Policy, whose core faculty includes many economics professors.
Tang and his daughter, Michelle Tang '13, both earned bachelor's degrees in economics at William & Mary. Tang also holds a law degree from Georgetown University. He has served on boards for The College of William & Mary Foundation and the William & Mary Business School Foundation. He was a member of the Board of Visitors from 2009 to 2013.