William & Mary Vice President Anna Martin retiring in 2015
Anna B. Martin, longtime vice president for administration at William & Mary, will be retiring later this academic year.
Widely  known as the person primarily responsible for the 21st-century revitalization of the main campus's physical landscape, Martin, who came to William & Mary in 2001, has a vast number of responsibilities at the university, including the offices of auxiliary services, facilities management, human resources, procurement and the William & Mary Police Department.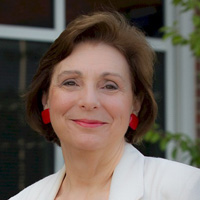 In 2009, under Martin's leadership, William & Mary rolled out a new University Human Resources System geared to give employees – and the university – greater flexibility with benefits, compensation and training. Martin also serves as chair of the W&M Emergency Management Team and has led a number of other efforts for the university such as risk management, threat assessment and energy management.
And, of course, there is campus construction. Over the past 12 years, Martin has overseen the addition or renovation of 1.3 million square feet of newly constructed or renovated space at a cost of approximately $600 million.
"During the last 14 years, Anna Martin has overseen and led a strikingly varied, complex, and demanding set of activities, each vital to the life of the university," said President Taylor Reveley. "In many respects, her job has been '24/7.' She has served the university splendidly and at times sacrificially. We owe Anna a great debt of gratitude."
Martin acknowledges her most visible work has been in the areas of managing campus construction projects and her leadership in campus safety and security as chair of the Emergency Management Team. But the most rewarding element, she said, has been her work in human resources – particularly the staff at William & Mary.
"It has always been important to me that people truly understand the critical contribution of staff to the success of this College, that they appreciate the value of the work our staff does, and that staff be provided with  the resources they need to do their jobs," said Martin, adding the new University Human Resources System is the achievement she is most proud of during her time at William & Mary.
"Among other things, the new system established the structure through which we can provide salary increases when the state does not," she said. "It allowed us to begin to provide benefits to long-serving hourly staff, and it kick-started a sorely needed training and development program that is growing more robust every day."
Martin became chair of the Emergency Management Team in 2008 and has overseen a transformation in terms of emergency response planning, training and use of technology such as the university's mass notification system.
"Risk management, emergency management and threat management are increasingly essential elements of what we do every day," Martin said. "There is no tolerance for failure in this area. We have grown tremendously in our assessment, preparedness and response capability, but this is a place where you can never be satisfied. You must strive to improve every day. You must think about safety every day. We have a hard working group of people who are dedicated to making sure we do just that."
Martin said she came to William & Mary because she wanted to work for a small, close-knit liberal arts university. Previously, Martin worked for more than 10 years at the Smithsonian Institution, including serving as executive director in the office of the under-secretary for the Smithsonian. Before joining the Smithsonian in 1990, Martin was special assistant to the general manager of the Washington Metropolitan Area Transit Authority and also worked public affairs for the Institute of Electrical Engineers, the U.S. Railway Association and the U.S. Department of Transportation.
An exact departure date has not been determined, but Martin said she plans to retire early in the spring semester. A search will be launched soon for her successor. When the time does come to retire, Martin said she'll remember the work of her colleagues.
"William & Mary is an amazing place, and I have an amazing job with challenges and rewards I never could have anticipated," Martin said. "No one does a job like this alone. The people who work in facilities, human resources, procurement, auxiliary services and the William & Mary Police Department make me look good every day. My achievements are their achievements. It has been my privilege to lead them for the past 14 years, and I am truly grateful for the experience."