Van Dobson to lead facilities management at W&M
Van Dobson has been selected as the next associate vice president for facilities management at William & Mary.
Dobson, who currently serves as the associate vice president for facilities services and campus planning at Lehigh University, will begin his work at W&M on Sept. 2. Dave Shepard, who retired this month after 16 years of service to W&M, previously held the position.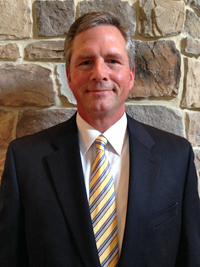 "We are very pleased that Van has agreed to join the College,"  said Vice President for Administration Anna Martin. "He brings a highly impressive breadth and depth of experience and knowledge to the challenging work of facilities management."
In his role at W&M, Dobson will be responsible for developing and administering all aspects of the university's facilities management operation, to include the planning, construction and renovation of all W&M facilities. He will also oversee maintenance, grounds keeping, postal services, moving and storage, utilities and plant management, fleet management, building services, and health and safety. Additionally, Dobson will serve as an adviser to the president, provost and other campus leaders on matters involving facilities management.
"I am delighted to be joining an institution with such a strong reputation and rich history and look forward to supporting the students, faculty and staff of William & Mary," said Dobson. "During the interview process, I was particularly impressed with the warm welcome from faculty and staff I had the pleasure to meet. The passion and pride they displayed were important factors in my decision to join the William & Mary team."
Dobson, a registered professional engineer, has more than 29 years of experience in the field of facilities management.
He started his career as a commissioned ensign with the U.S. Navy, going on to serve at locations ranging from Guam to Virginia Beach. While in the service, Dobson held numerous leadership positions, including chief facilities officer for Navy Region Hawaii, executive officer for the Navy Public Works Center in Jacksonville, Florida, commanding officer of the Naval Construction Battalion Center in Gulfport, Mississippi, and commodore of the 20th Seabee Readiness Group. He retired from the Navy in 2008.
That same year, Dobson became the chief facilities officer for the University of North Carolina Chapel Hill. In 2011, he began working in his current position at Lehigh. In that role, Dobson has managed a group of facilities valued at over $1.5 billion and led a staff of more than 200 in implementing a $250 million capital improvement plan.
Dobson holds a bachelor's degree in chemical engineering and a master's degree in civil engineering from the University of Florida. He is also graduate of the Naval War College and the executive program at Dartmouth College's Tuck Business School.