William & Mary graduate student featured on 'With Good Reason'
Graduate student Kevin Kosanovich was featured this week on the radio program With Good Reason which airs on public radio stations around the country.
During the interview, he traces hip-hop's roots, focusing on how it is expressed in different regions of our country, from California to New York and, of course, in the Commonwealth.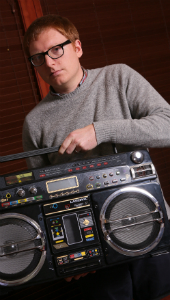 American-invented hip-hop music is now an international phenomenon with rappers in countries like Japan and Senegal. Last year, William & Mary's Special Collection Research Center launched a Hip-Hop Collection chronicling the genre's growth in Virginia – very much at the encouragement of Kosanovich.
If you miss the broadcast live, it may be heard via podcast, here. You may also subscribe to the podcasts online.
Kosanovich is a doctoral candidate in American studies at the College. In preparing his dissertation, which examines the history of the Bronx River Houses, the Zulu Nation and the emergence of hip-hop in the Bronx, Kosanovich employed the resources of Cornell's hip-hop collection. That researched sparked the desire to create a similar resource of Virginia's rich hip-hop history.