Tribe men fall in CAA championship game
Carl Baptiste, a burly 6-9 forward who averaged 10.9 points per game for the University of Delaware during the regular season, scored the last of his career-high 24 points with 12.8 seconds to play Monday night to lead the Blue Hens to a 75-74 victory over William & Mary and the automatic NCAA tournament bid that comes with the CAA men's basketball championship.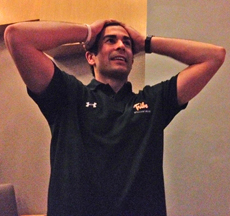 Tribe junior guard Marcus Thornton had a chance to change the outcome, but his jump shot with two seconds to play banged off the left side of the rim. Thus, William & Mary's chance to advance to its first NCAA tournament ever ended in heartbreaking fashion. With a record of 20-12, William & Mary now must wait to see if it will receive a bid to play in the National Invitation Tournament.
The Tribe clawed back from a 12-point second-half deficit to take a 74-68 lead on freshman Omar Prewitt's three-point jumper from the left wing with 1:17 to play. Prewitt, the CAA's rookie of the year, sparked the comeback with 14 points. But those would be the Tribe's final points of a night that featured almost nothing but frustration from the free-throw line.
After making just three of 10 foul shots in the first half, the Tribe missed their only attempt of the second 20 minutes when Prewitt missed the front end of a one-and-one with 58.5 seconds to play. The Blue Hens then scored on a three-point play with 51 seconds left to trim their deficit to one point.
Thornton missed a jumper with 25 seconds to play, after which Delaware quickly worked the ball inside to Baptiste. With the Tribe defense expecting the Delaware guards to control the ball, Baptiste was wide open underneath and scored an easy lay-in to win the game.