Shaver follows script written by two admirable men
Call it "The Dean's List." It has nothing to do with grades or grade point average, though even if it did, Tony Shaver would almost certainly be included.
This Dean's List refers to men who played under legendary former University of North Carolina coach Dean Smith then went on to become coaches themselves.
Shaver, whose William & Mary basketball team opens play in the Colonial Athletic Association tournament against the College of Charleston Saturday night at 8:30, has more than earned his standing on that list during nearly 30 years roaming the sidelines.
From 1986-03, it was at Hampden-Sydney, where he took the team to 11 NCAA Division III tournament appearances. The rest of the time has been spent with the Tribe, where this season his team has an 18-11 record, the fifth-most victories in school history.
What everyone wants – a CAA title and first-ever NCAA tournament appearance – would propel this squad over the 20-victory mark and into the same sentence with the 2009-10 team that won 22, maybe even the 1949-50 club that captured 23 or the '48-49 contingent that won a school-record 24 times.

But if you think Shaver is worried about anything other than getting past the first round of the conference tournament, you'd be mistaken.
"We have to be terrific (this weekend)," he said following a pre-tournament staff meeting in which that day's practice was programmed – literally – minute by minute. "Anybody who wins a tournament has to be great for a span of three or four days. Our draw is really tough, but I think our players approach this weekend with confidence that we are capable of (winning) this thing."
Everything Shaver does as a coach is grounded in the teachings of the two men who influenced him the most – his father and Smith.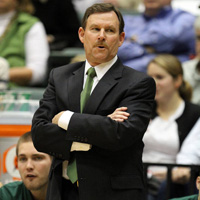 "They were so similar in so many ways," he said. "From a coaching standpoint, there are (three) simple things: Without great chemistry, you're never going to reach the peak. Second is how well the (team performs) the fundamentals. In March, it's not a new play. It's not a new player. It's just how well you play fundamentally when the tournament rolls around. The third thing is the attention to detail. His practices (were) and our practices are planned down to the minute. 'At 2:02, we're going to do this; at 2:05, we do this.' Our practices really click. We get a lot out of that time we have."
Don't tell Shaver not to "sweat" the small stuff. The small stuff was always a major emphasis of his father's.
"My father's favorite saying to me was 'You take care of the little things, the big things will take care of themselves,'" Shaver said.
Despite last season's 13-17 record – or maybe because of it – Shaver admitted he approached this season "with probably a bit more anticipation." Having six seniors certainly fed his enthusiasm.
"Our best years at William & Mary have been with teams that are experienced, have had some postseason success, have been through the wars a bit," he said. "I always have a keen sense of what might happen, but I also thought there was a good chance for positive things to happen.
"Last year, our team lost six games by six points or less; we were really close to being really good last year. We felt we could have a good basketball team this year."
Shaver's definition of success probably differs some from that of the hardcore fan, who may view NCAA appearances as the only barometer.
"I think people forget that two of the last five years we've been in the CAA championship game," he said. "We lost to George Mason and we lost to Old Dominion in the finals.
"As a coach, my goal every year is to get the most out of a team that I possibly can. Now that peak might be 10 wins, might be 20 wins, might be an NCAA championship, but as a coach, my goal every year is to get the most out of a team."
In that sense, Shaver calls the 2013-14 Tribe "a great basketball team."
"It's a team that's played close to its potential most of the year; not every game, but close to its potential," Shaver said. "It has competed really hard and that's important to me. There's only one time we haven't – and that was at Charleston a couple of weeks ago. We play really well together and it's a team that represents William & Mary in all of the right ways."
It's no secret to the college basketball fan that William & Mary is included among "the forgotten five," along with Army, The Citadel, Northwestern and St. Francis (N.Y.) That's a slang term for colleges that have never qualified for the NCAA basketball tournament. Even if the Tribe advances to the CAA title game on Monday, where a vctory would give them an automatic bid into what has become known as "March Madness," Shaver won't mention the implications of winning the game and breaking away from that pack.
"That's not something I'll bring up," he said. "That's not this team's burden. It's unfair for me or anybody else to take that history and place it on these guys' shoulders. If we're successful, it will please a lot of people and a lot of people will have been a part of that. But that's not this team's burden."