Staples receives DeMary Award for educational leadership
Steve Staples '76, M.Ed. '83, Virginia's superintendent for public instruction, received the 2014 Jo Lynne DeMary Award at a breakfast in the William & Mary School of Education Nov. 6.
"It really is our pleasure and our honor to acknowledge his great work," said School of Education Dean Spencer Niles.
The award recognizes individuals for leadership in education and was named for Jo Lynne DeMary '68, who was the first woman to serve as the Commonwealth's superintendent for public instruction.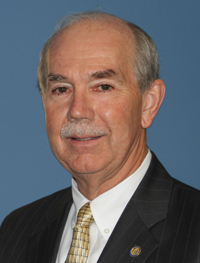 DeMary joined nearly 50 other William & Mary graduates and faculty members at the event, which was sponsored by the School of Education's education policy, planning and leadership (EPPL) program. Among those in attendance were current and former principals, department chairs, superintendents, central office administrators and department of education leaders, said Niles.
"I think it's pretty evident that our school does in fact provide leadership at all levels of education across the Commonwealth," Niles said, "and I hope that we all take pride in the fact that we have that connection with William & Mary and that we know that so many of our graduates are influencing education."
The EPPL program is about training leaders, said Mike DiPaola , department chair.
"And one of the things that we're very proud of is how many of our graduates go out into the field and really make a significant difference in public schools to help teachers become better at what they do so that more kids can achieve at higher levels," he said.
Staples is a prime example of that kind of leader, DiPaola noted.
Before being appointed to his current position in April 2014, Staples was the executive director of the Virginia Association of School Superintendents. Previously, he served as the superintendent for York County Schools for 16 years and later became a full-time faculty member in the William & Mary School of Education where he was the first director of the Executive Ed.D. program. Despite the demands of his current position, Staples continues to teach in the W&M Executive Ed.D. program.
Staples' close connection to William & Mary was evident as he accepted the award, thanking all of those who have supported him throughout the years.
"Probably 90 percent of the room has made me look better than I am, and that's what's important -- getting the right people around you," he said.
Soon after being appointed state superintendent, Staples sought the advice of DeMary. Receiving an award with her name on it and receiving it front of a group of people he's respected and admired for years made the honor especially significant, he said.
"The fact that I get to accept it in front of you is perhaps most meaningful to me because so many of you contributed to the work that I've done and, let me be clear, will continue the work that's ahead," he said.
"We are in an exciting time in education; I'm excited to be part of it. There's a lot going on, but we have miles to go, and there are opportunities before us that we should not let pass. Seldom do windows open in the manner in which they are open now for us to make impacts in public education that will have a lasting effect. I thank you for getting me this far, and I hope you will continue to carry me as I go into the next phase."
DiPaola said he doesn't know anyone who wouldn't follow Staples because of who he is, how passionately he articulates his vision and how he continually focuses on what's best for students.
"There will always be legions behind you, Steve," said DiPaolo. "We're very proud that you're one of us and that you continue to be one of us."