McGlothlin Leadership Forum kicks off Oct. 21
The fourth annual McGlothlin Leadership Forum will be held Oct. 21-23 at the Raymond A. Mason School of Business and the William & Mary Law School.
The annual forum, which provides the William & Mary community the opportunity to engage with pre-eminent leaders in business and law, is the vision of James W. '62, J.D. '64, LL.D. '00 and Frances G. McGlothlin.
"We are honored to host this year's fellows, who are sure to inspire the William & Mary community and spark vigorous discussion about today's important national and global business trends," said James McGlothlin.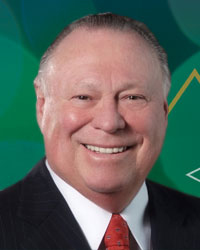 The McGlothlins envision the forum as an opportunity to prepare students to make a difference in the world by expanding their understanding of leadership, integrity, accountability and revolutionary thinking. "We believe in the power of strong leaders and the transformations they make possible," Frances McGlothlin said. 
One highlight of the forum, the plenary session, will bring together fellows, students, faculty, alumni and the community to discuss economic, political and legal issues in an open forum. The plenary session will be held at 2 p.m. on Wednesday, Oct. 22, in the Brinkley Commons Room of Miller Hall on Ukrop Way, and is free and open to the public.
"Once again, we are indebted to Jim and Fran McGlothlin for making possible another outstanding group of leaders in business and law," said Larry Pulley, dean of the Raymond A. Mason School of Business and T.C. and Elizabeth Clarke Professor of Business Administration. "Our students, faculty and alumni are excited anew to welcome the McGlothlin Leadership Forum to Miller Hall."
"The McGlothlin Leadership Forum offers an opportunity each year to gather as a campus community to think about the role of leadership and public service in addressing the challenges we face as citizens of the world," said Davison M. Douglas, dean of the Law School and Arthur B. Hanson Professor of Law. "We look forward to welcoming Jim and Fran McGlothlin and the 2014 Forum Fellows to campus."
The 2014 McGlothlin Leadership Forum Fellows are:
James J. Sandman – Sandman is the president of Legal Services Corp., which funds legal aid programs for low-income people. He was general counsel for Washington, D.C. Public Schools and a managing partner with international law firm Arnold & Porter LLP, with which he spent 30 years.
George Tamke – Tamke retired this year as the senior operating partner of Clayton, Dubilier & Rice. He has been the CEO and chairman of a number of leading companies, including the Hertz Corp., Kinko's and Culligan, as well as chairman of ServiceMaster.
Strauss Zelnick – Zelnick is founder of Zelnick Media, a media investment and management firm. He is former president and CEO of BMG Entertainment, Crystal Dynamics and 20th Century Fox.