Mary Jo White '70 among Time's 'Most Influential People'
William & Mary alumna and chair of the Securities and Exchange Commission Mary Jo White '70 made Time magazine's list of the "100 Most Influential People," released today.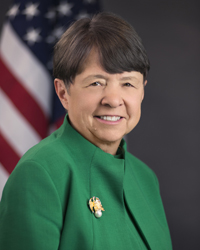 The list appears in the May 12 issue of the magazine, which includes short profiles of each of the 100 people written by notable guest contributors. Other people on the list include Pope Francis, President Barack Obama and former Secretary of State Hillary Clinton. Musician Beyoncé is on the cover of the issue, expected to be on newsstands Friday.
The piece on White, which appears in the "pioneers" section of the list, was written by Preet Bharara, U.S. attorney for the Southern District of New York.
"Mary Jo White is without a doubt one of the most influential lawyer-leaders of modern times," Bharara wrote. "But hers is the kind of influence measured not only in cases won and clients defended but also in people inspired and characters formed. After her decades at the pinnacle of law practice, her progeny fill the country's legal firmament. She is a role model for all of them and everyone else who wants to make a difference."
White is a former U.S. attorney widely known for her expertise in prosecuting white-collar crimes. The first woman to hold the position of U.S. attorney in Manhattan, White spent nearly a decade handling complex securities, financial fraud, drug trafficking and international terrorist cases. One of her most notable cases was the conviction of Ramzi Yousef, the mastermind of the 1994 World Trade Center bombing.
In 1970, White earned her undergraduate degree in psychology from William & Mary. During her junior year, she became a member of Phi Beta Kappa, the nation's oldest and largest academic honor society. White graduated from Columbia Law School in 1974.
In 2000, she led the criminal prosecution of more than 100 people — including members of all five New York crime families — accused of strong-arming brokers and manipulating prices of penny stocks. The action was called one of the biggest crackdowns on securities fraud in U.S. history at the time.