W&M alumna nominated to lead SEC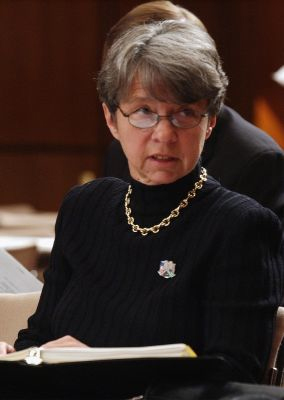 President Barack Obama announced today that he is nominating Mary Jo White '70 to lead the Securities and Exchange Commission, an agency that has an instrumental role in implementing Wall Street reform.
White is a former U.S. attorney widely known for her expertise in prosecuting white-collar crimes. The first woman to hold the position of U.S. attorney in Manhattan, White spent nearly a decade handling complex securities, financial fraud, drug trafficking and international terrorists cases. One of her most notable cases was the conviction of Ramzi Yousef, the mastermind of the 1994 World Trade Center bombing.
In 1970 White earned her undergraduate degree in psychology from William & Mary. During her junior year, she became a member of Phi Beta Kappa, the nation's oldest and largest academic honor society. White graduated from Columbia Law School in 1974. 
In 2000, White led the criminal prosecution of more than 100 people — including members of all five New York crime families — accused of strong-arming brokers and manipulating prices of penny stocks. The action was called one of the biggest crackdowns on securities fraud in U.S. history at the time.
When recognizing her role in the convictions of mob boss John Gotti in 2002 and terrorists who bombed the World Trade Center and two U.S. embassies in Africa, Obama told members of the press today during a ceremony in the State Dining Room: "You don't want to mess with Mary Jo." 
"As one former SEC chairman said, 'Mary Jo doesn't intimidate easily,'" he added.
White is currently a partner at law firm Debevoise & Plimpton in New York. If the Senate confirms her nomination, she would replace Elisse Walter who took over as chair in December when Mary Schapiro announced she would be stepping down from the position.