Jacob Miller '18 earns Beales Scholarship
Jacob Miller, 18, a recent graduate of Fuqua School in Farmville, Virginia, has been awarded the Harriett Pittard Beales Scholarship at William & Mary for academic year 2014–15. The merit-based scholarship provides approximately $4,000 in tuition assistance to an incoming first-year student from South Central Virginia.
Miller, the son of David L. Miller of Farmville and Shannon L. Barker of Chesapeake, will become the first in his immediate family to attend a four-year college.
"This covers the rest of my tuition for my freshman year," stated Miller, who said he was "overjoyed" upon learning of the award. "It is definitely a very big help and an honor to be selected."
Established in 1984, the Beales Scholarship honors the late Harriett Pittard Beales, a former high school teacher, lifelong community servant and Boydton resident who touched the lives of many, including numerous young people, some of whom she mentored well into her 80s. She died in August 2013, shortly after her 100th birthday.
As a member of the William & Mary Class of 1934, Beales majored in home economics, chaired the Honor Council, served as vice president of the Women's Student Government and was crowned May Queen as a senior. The scholarship was established by her sons, Walter R. Beales III, an attorney in Boydton and a member of the William & Mary Class of 1966, and Randolph A. Beales, a judge on the Virginia Court of Appeals and former Virginia attorney general, who graduated from William & Mary in 1982.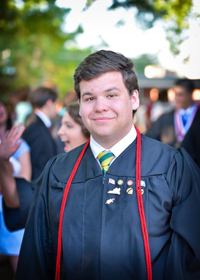 "Jacob's impressive background and character reflect a deep commitment to the values, especially serving others, that Mother embodied her entire life," said Walter Beales. "We look forward to getting acquainted with him as he follows a long line of outstanding holders of this scholarship, many with whom we remain in contact."
Recipients of the Beales Scholarship are selected based on academic performance, extracurricular community activities and service, outstanding character and other personal achievements. Students from the city of Emporia and 12 counties — Amelia, Appomattox, Brunswick, Buckingham, Charlotte, Cumberland, Greensville, Halifax, Lunenburg, Mecklenburg, Nottoway and Prince Edward — are considered for the award once they have been admitted to William & Mary.
After visiting William & Mary for the first time in the spring of his junior year, Miller knew the university was right for him.
"I instantly fell in love with the campus," he said. "I love history, so that was a big draw. It's what I picture when I think of college — brick buildings, brick sidewalks and big oak trees. I like that it's an extremely academic school, but with a very warm and friendly feel." 
Other factors in his decision to attend William & Mary were the small class sizes and the reputation of the professors as being "very accessible and willing to help."
Born in Fredericksburg and reared in Chesapeake, Miller moved to Farmville during middle school and attended Fuqua all four years of high school. He graduated on May 23 with a 3.8 GPA and a remarkable record of leadership and service. He was particularly involved in student government and politics — an interest he plans to carry to college and beyond. He served as student body vice president his senior year and as class president his freshman year. He also participated in Virginia Boys State, a nationwide civic leadership action program sponsored by the American Legion.
"Boys State last summer was when I truly decided that politics is what I want to do," said Miller, who one day hopes to run for public office and possibly work on Capitol Hill. "I believe voting is our highest responsibility as a citizen, but I want to take that a step further."
Miller co-organized South Central Virginia's first Model United Nations conference, which was held early this year at Hampden-Sydney College. He also served as editor-in-chief of Fuqua School's monthly student newspaper, which he helped revive after its multiyear hiatus. During high school, Miller was a four-year team member and the 2013–14 captain of Fuqua's Battle of the Brains team that competed in televised, academic quiz shows for Central Virginia high schools. He also directed and acted in several school plays, served as announcer for home basketball games and frequently was invited to sing the national anthem at Fuqua School sporting events.
Since his sophomore year, Miller has been an on-air personality at Farmville's hometown radio station, WFLO, where he is easily the youngest staff member and enjoys the chance to do "two things I love the most — talking and listening to music." Last November, the station aired a documentary that Miller created about the 50th anniversary of President John F. Kennedy's assassination. The program, entitled "JFK: His Presidency and a Day that Changed the World," won Best Documentary or Public Affairs Program for small radio markets at the Virginia Association of Broadcasters' 77th Annual Awards program on June 20 in Virginia Beach.
"It was an incredible experience to be in a room with 500 other broadcasters from around the state who are at the top of their game," Miller said. "I'm ecstatic that I was able to win this award for the station."
In addition to getting involved in student government at William & Mary, Miller plans to continue pursuing his interest in radio and announcing, journalism and singing, as time allows. An experienced Civil War re-enactor, he also hopes to get involved with Colonial Williamsburg.