Introducing William & Mary Mobile
William & Mary officially launched a new mobile application this summer for both iOS and Android devices: William & Mary Mobile.
The app is part of an ongoing effort by Information Technology and Creative Services to create a positive mobile experience for the W&M community. The app, developed in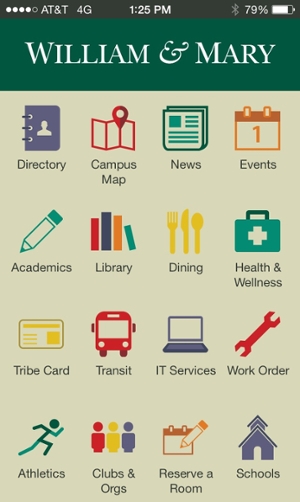 conjunction with a variety of campus partners, offers easy access to campus resources for current students, faculty and staff, alumni, and friends and family.
Currently, the app allows users to do such things as submit work orders, manage Tribe Cards, search the campus directory, utilize the campus map, reserve a room and find transit schedules and routes. Later this fall, students will also be able to access their course schedules and grades and view dining locations and menus through the app.
Why an app? Why now?
Four years ago, Creative Services launched a mobile site for William & Mary. The idea behind the site rested in the growing need to offer mobile content to the increasingly mobile community. While the mobile site served its purpose during the rise in popularity of mobile technology, it lacked the flexibility of a mobile application or the depth of content offered by the university's now mobile-friendly, responsive websites.
"I've always thought we needed a bigger mobile presence," said William & Mary Chief Information Office Courtney Carpenter, "and an app just seemed more logical."
The goal in pursuing a mobile app was threefold: to establish a broader presence for William & Mary in the mobile app market, to provide students with mobile-friendly access to their Banner and Blackboard course information, and to simplify access to campus services and resources frequented by our mobile users. The university partnered with Modo Labs to fulfill these goals.
Offering more possibilities
The William & Mary app is designed to accommodate the needs of a variety of users. W&M Mobile contains multiple versions within the app that allow it to satisfy the desires of students, faculty & staff, alumni and visitors to the campus alike. The mobile app team crafted each app version to best fit the needs of their respective constituents.
"For us, communication includes everybody," said Tina Coleman, director of Creative Services.
Coleman played a major role on the mobile application committee, as she holds expert knowledge of William & Mary's pre-existing mobile site.
"But we agreed that the focus should be on those who are on campus," added Coleman.
The app caters to student life through a range of avenues. W&M Mobile's Blackboard and Banner integration allows students to stay up-to-date with course information, while quick access to the university's events calendar keeps them connected on and off campus. Additional services, such as a campus dining module, laundry room status module and quick access to the work order request system, simplify the lives of on-campus residents.
Although students are undoubtedly the primary target in the app's design, faculty & staff, alumni, and visitors of W&M also benefit from its utility. The app features modules dedicated to these groups, as well as feed from William & Mary's social media streams and photo galleries. The mobile app even offers a campus map, mobile audio tour and admission module for prospective applicants.
"The map is a helpful feature for families," noted Coleman. "The map and directory were the most popular features on the previous mobile site."
According to Coleman, the committee derived much of the inspiration for the app's content from the mobile site.
"When we first made the mobile site, we asked ourselves, 'What would we want people to have access to on their phone?'" she said.
However, Coleman and Creative Services came to realize that the current mobile site was not exactly the answer they were looking for. While the mobile site represented a step in a promising direction, its functionality left much to be desired. Coleman explained that there were not enough mobile friendly resources to link to.
The mobile app helps resolve that problem by connecting students to Banner and Blackboard course information, and centralizing online resources.
"Having the things they care about available to them in one place is something I think students will be responsive to," Coleman said.
A collective effort
Although William & Mary Information Technology funded the app project and led its technical integrations, the venture pulled from a variety of campus entities. Coleman and the Creative Services team provided their web expertise, user insights and design skills, while members from Auxiliary Services, Student Affairs, University Advancement and the University Registrar advised on much of W&M Mobile's content pieces. There was also consultation with various other departments and committees on campus throughout the process. To round-out its perspective, the project team also included three current W&M students who assisted in the development of a student-friendly product.
Project Manager Melissa Palacios welcomed the diverse group, noting that, "Having participation from so many areas of campus was essential to putting together the pieces of the puzzle. That is how we were able to discover what was most important."
Palacios sees great potential for the app.
"We took a lot of time researching and deciding which services should be made available through the app," she said. "I expect it to be well received, because it's something that we have needed for some time now."
According to Palacios, one of the most notable features is a module dedicated to campus-wide events. This module displays information and resources related to the event -- like schedules, maps, checklists, contact information, etc. The module will cycle throughout the year between major events such as Orientation, Family Weekend, Homecoming, Charter Day and Commencement. 
Palacios and her team still have some work ahead of them. While W&M Mobile is now available, the team is still working to tie-up loose ends. They will also now face a new challenge in adapting to feedback and updating the app with fresh content as demands and offerings change.
Download the app, learn more about its features and provide feedback at the W&M Mobile App website.