Henry Broaddus named W&M vice president for strategic initiatives
Broaddus to succeed Jim Golden; current VPSI becomes senior counselor to the president
Henry Broaddus, longtime dean of admission at William & Mary and the current associate provost for enrollment, has been named the university's vice president for strategic initiatives.
Broaddus will succeed Jim Golden, who has served as vice president since 2008 and will step down next month. Golden has considered retirement for some time, but there have always been projects to complete and the matter of the transition to coordinate.  He felt the timing was right to make the transition this year, but he has agreed to stay at William & Mary in a volunteer role as senior counselor to the president. The appointments will be effective Aug. 1.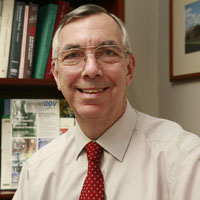 "Six years ago, instead of retiring as he'd planned, Jim Golden agreed to take on a vice president position created to push forward the university's most pressing strategic initiatives," said President Taylor Reveley. "That appointment turned out to be one of the best -- and most important -- decisions I have made since becoming president. Now, I fear we can no longer keep Jim from the Elysian Fields of retirement, though his loss will be keenly felt. The General's effectiveness has made clear what an enormous value the vice president for strategic initiatives can have for William & Mary. I am very thankful for Jim's extraordinary service and his willingness to continue giving part of his time to W&M.
"As we look to the future, we need another Jim Golden," Reveley added. "I believe we have one in Henry Broaddus. Henry has been superb at guiding our undergraduate admission and financial aid offices. He is also a respected leader on campus. I am very grateful Henry has agreed to take on these responsibilities."
As vice president for strategic initiatives, Broaddus will report directly to Reveley and oversee the division that includes the offices of university relations and creative services, economic development and business innovation, and government relations.   In addition, the university's Director of Sustainability will report to Broaddus, who will also have responsibility for special projects related to strategic planning, entrepreneurial opportunities, operational efficiency and financial sustainability.
The new vice president
Broaddus has been a rising star since he joined William & Mary in 2001 as senior assistant dean of admission. He was named dean of admission in 2005. In 2010, Broaddus was named associate provost of enrollment, assuming responsibilities for both the admission and financial aid offices. Under his leadership, William & Mary attracted record undergraduate applicant pools and launched innovative programs to recruit classes among the brightest and most diverse in the university's history. This year was no different. William & Mary received more than 14,500 undergraduate applicants for the Class of 2018, a record number for the 10th consecutive year.
"I am proud of all we have accomplished together in the admission and financial aid offices," said Broaddus.  "It remains unclear which will be harder -- leaving that team or following Jim Golden, but I am excited nonetheless about the challenges of this new role. I look forward to working with the talented people in the Office of Strategic Initiatives and to working more closely with President Reveley to ensure a future for William & Mary that befits this great university."
A native of the Richmond area, Broaddus graduated magna cum laude in 1997 from Dartmouth College with an A.B. in English literature and creative writing. Since arriving at William & Mary, he has become a respected speaker and frequent national media source on college admissions, and he has written guest blog entries for The Washington Post. Since 2006, Broaddus has traveled internationally on behalf of the Overseas Schools Project, a joint venture of the U.S. Department of State and the College Board, and he serves on the College Board's National College Planning Advisory Board. He has worked on multiple admission-related communication projects that have been recognized with awards from the Council for Advancement and Support of Education (CASE), including a YouTube video he scripted regarding W&M's application essay and the Ampersandbox, an integrated print and online resource for prospective students and their families.
Broaddus also has been involved in sustainability and environmental issues. From 2003 to 2012, he served as a gubernatorial appointee to the Virginia Scenic Rivers Advisory Board. In 2006, he became a board member for the Virginia Conservation Network.
The soldier-scholar
A retired brigadier general who spent 31 years in the U.S. Army, Golden was a decorated soldier and successful business executive before coming to William & Mary in 1999 as director and then associate vice president of economic development and corporate affairs.
Golden graduated fourth in his class at the United States Military Academy at West Point and subsequently earned a master's in public policy and a Ph.D. in economics at Harvard.  While in the Army, Golden served in artillery units, including combat duty in Vietnam, and then taught in and directed the economics program at West Point, ultimately serving as professor and head of the Department of Social Sciences for seven years. While on the West Point faculty, he spent a year in Germany in 1981-82 as a Fulbright Professor and served intermittently under three presidents as a senior staff economist on the President's Council of Economic Advisers. After retiring from the Army, Golden served as executive director of corporate technology and innovation and executive assistant to the chairman and CEO at Tenneco, Inc.
During his time at William & Mary, Golden has played a leading role on a number of critical projects, including the development of a strategic planning process, reorganization of campus communications, establishment of a technology transfer office and the Technology and Business Center, creation of the VIMS-Industry Partnership Committee, helping coordinate the joint venture that led to the New Town development, the purchase of the former Sentara Hospital site that now contains the School of Education, the creation of the William & Mary Real Estate Foundation and planning for Tribe Square, and business innovation initiatives on campus.  An active participant in community activities, he has served as Chairman of the Chamber and Tourism Alliance and Treasurer of the Williamsburg Health Foundation.  As senior counselor, he has agreed to stay at W&M in a pro bono, part-time position to assist with the university's business innovation efforts. Golden will also help coordinate initiatives with the Army's Training and Doctrine Command (TRADOC) and consider other assignments assisting the president.
"It has been a great honor and privilege to serve at the Alma Mater of the Nation, a distinguished public ivy that delivers the best education in the galaxy," Golden said.  "The people of William & Mary are quite extraordinary, with a deep commitment to excellence and a real sense of community.  Working with President Reveley, Provost Halleran, the rest of the leadership team, and the dedicated professionals in Strategic Initiatives has been a real joy."  
Reveley said Tim Wolfe, senior associate dean of admission at W&M, will assume interim responsibilities for undergraduate admission and financial aid while a search is underway to replace Broaddus.
"Our undergraduate admission and financial aid offices are crucially important to the future of William & Mary," he said. "Like Jim Golden, Henry Broaddus leaves huge shoes to fill. I am confident Tim will keep us moving forward during this transitional period."