Susan Grover named W&M vice provost for academic and faculty affairs
Susan Grover, a longtime professor at the William & Mary Law School, has been named the university's vice provost for academic and faculty affairs.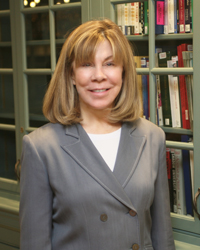 Grover, currently a University Professor for Teaching Excellence at William & Mary, has served in a number of campus-wide leadership roles at W&M. She will assume her new responsibilities as vice provost July 1, Provost Michael R. Halleran announced Monday.
"In the course of the search process, it became clear that Susan's combination of experience, skills, knowledge of the campus and appreciation of the W&M ethos made her extremely well suited for this important position," said Halleran. Grover will succeed Kate Slevin, a longtime sociology professor at W&M who has been vice provost since 2010. Slevin is retiring in 2015.
"As I said often in this process, no one will 'replace' Kate Slevin," Halleran said in his message to campus. "She has been an exemplary vice provost, and I have benefitted dearly from her sage counsel, smarts and hard work."
As vice provost for academic and faculty affairs, Grover will report to Halleran and be responsible for university-wide program initiation and review, faculty mentoring and development, and university-wide assessment and accreditation. In this last role, the vice provost serves as the university's liaison to the Southern Association of Colleges and Schools (SACS) and the State Council of Higher Education in Virginia (SCHEV).
"I am deeply honored that the provost has asked me to serve as vice provost. It is my pleasure to follow in the footsteps of the remarkably accomplished Kate Slevin," Grover said. "At this pivotal moment in the College's history, it will be particularly gratifying to work with my distinguished colleagues on the faculty and administration across the university as William & Mary continues its tradition of excellence."
Grover, who received a J.D. from Georgetown University Law School and an undergraduate degree in English from Hollins College, joined the W&M Law School faculty in 1988. Grover's scholarship has focused on employment discrimination, and she has served William & Mary in a number of roles. From 2002 to 2007, she was director of equal opportunity. Currently, Grover is vice president of the William & Mary Faculty Assembly. Previously, she directed the summer law programs in Madrid, Spain and in Adelaide, Australia.
Grover has been widely recognized for her teaching at William & Mary and service to the university community. In 2011, she received the Walter L. Williams, Jr., Memorial Teaching Award, an honor given by the graduating class to a member of the law school faculty in recognition of outstanding teaching. Also in 2011, Grover became the first law professor at W&M to be named a University Professor for Teaching Excellence. The three-year professorship is based on a demonstrated and sustained excellence in teaching. In 2013, Grover received the Law School's John Marshall Award. This award is bestowed each year on a member, or members, of the faculty or staff who have demonstrated character, leadership and a spirit of selfless service to the Law School community.
While at Georgetown Law, Grover served as executive editor of the
Law Review
. Following law school, she clerked for Chief Judge Spottswood W. Robinson III of the U.S. Court of Appeals for the District of Columbia Circuit and Judge Oliver Gasch of the U.S. District Court for the District of Columbia. In the fall of 1999, Grover served as the Distinguished Visiting Professor of Teaching Effectiveness at the Franklin Pierce Law Center. She has served as a member of the Board of Directors for Virginia Lawyers Helping Lawyers and as a member of the American Bar Association's Commission on Lawyer Assistance Programs. In March, Grover was selected by
Virginia Lawyers Weekly
 as one of a small number of outstanding professional women in Virginia for the 2014 "Influential Women of Virginia" recognition.