Governor McAuliffe to speak at W&M's 2014 Charter Day ceremony
Virginia Governor Terry McAuliffe will serve as the speaker at William & Mary's Charter Day Ceremony at 4 p.m. on Feb. 7 in Kaplan Arena. The annual event celebrates William & Mary's royal charter, which was given in 1693 by the College's namesakes, England's King William III and Queen Mary II.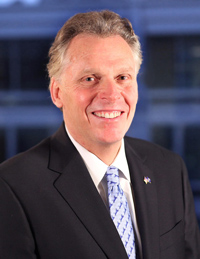 McAuliffe will also receive an honorary degree at the event along with Emeritus Chancellor Professor of Mathematics David Lutzer. William & Mary Chancellor and former Secretary of Defense Robert M. Gates '65 is also expected to provide brief remarks at the event.
"William & Mary is delighted that our newly elected governor will speak at Charter Day and receive an honorary degree," said President Taylor Reveley. "For almost a century, it has been our tradition to award governors of the Commonwealth their first honorary degree from any Virginia school, often on Charter Day. We are honored to have Governor McAuliffe be a part of that tradition. As we celebrate the College's 321 years, we will also honor David Lutzer, a Chancellor Professor whose teaching and scholarly excellence have inspired students and colleagues at the university for a generation and who has also served William & Mary as a dean and acting provost."
Governor Terry McAuliffe
Born in Syracuse, N.Y., McAuliffe has long worked in fundraising, business and banking. He received his undergraduate degree from the Catholic University of America in 1979 and his law degree from Georgetown University in 1984.
A lifelong entrepreneur, McAuliffe began his first business at the age of 14, paving driveways. He has since been involved in numerous business ventures, including the founding of Federal City National Bank in Washington, D.C., in 1985. Three years later, he was elected its chairman at the age of 30. In 1991, McAuliffe negotiated the bank's merger with Credit International Bank and later became that bank's vice chairman. Since then, McAuliffe has gone on to a number of additional business ventures.
McAuliffe's career in politics began in 1980 when he began working on Jimmy Carter's reelection campaign, eventually becoming its national finance director. In 1996, McAuliffe was named co-chair of Bill Clinton's reelection campaign, and he was elected in 2001 as the chairman of the Democratic National Committee, serving in that role until 2005. Three years later, McAuliffe served as one of Hillary Clinton's campaign chairmen when she ran for president.
In 2012, McAuliffe began a run for the Virginia governorship, becoming the Democratic nominee. He went on to defeat the Republican and Libertarian candidates in the 2013 gubernatorial race.
McAuliffe is married to Dorothy Swan, and the two have five children. The family has lived in Virginia for 20 years, and they currently reside in McLean. In 2007, McAuliffe published a memoir entitled, What a Party! My Life Among Democrats: Presidents, Candidates, Donors, Activists, Alligators, and Other Wild Animals.
A college campus is familiar territory for McAuliffe, who once served as a visiting fellow at Harvard University's John F. Kennedy School of Government.
David Lutzer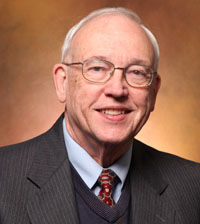 A professor emeritus since 2011, Lutzer first came to William & Mary in 1987 as a professor and dean of the faculty of Arts & Sciences. In 1993, he served as the College's acting provost. Two years later, he stepped down as dean and returned to the faculty. In 2001, Lutzer was named a chancellor professor, and from 2007 to 2010 he served as chair of the mathematics department before retiring the next year.  He continues to teach a class at the university.
Lutzer received his undergraduate degree from Creighton University in 1964. He went on to become a Rhodes Scholar at Oxford University, receiving a diploma in advanced mathematics from that institution in 1966. Four year later, Lutzer earned his doctorate from the University of Washington.
He began his career as an instructor at his doctoral alma mater and went on to work at the University of Pittsburgh, Texas Tech, the National Academy of Sciences, Vrije Universiteit in Amsterdam and Miami University before coming to William & Mary.
Lutzer has won multiple awards and honors throughout his career, including a Virginia Outstanding Faculty Award in 2006, William & Mary's Thomas Jefferson Award, and National Science Foundation and National Defense Education Act fellowships. He has produced many articles, books chapters and other publications and served as the editor of the American Mathematical Society's Proceedings journal.
In addition to his work as dean of Arts & Sciences, acting provost and chair of the Mathematics Department, Lutzer has served on the Faculty Committee on University Priorities, a Presidential Search Committee and the Strategic Planning Committee. He has also chaired the Procedural Review Committee and the Mathematics Department Undergraduate Curriculum Committee, and been vice president and president of the Faculty Assembly.