Future of U.S. global competence draws experts to conference
The Coalition for International Education and the College of William & Mary's Reves Center for International Studies will host a three-day conference entitled "Internationalization of U.S. Education in the 21st Century: The Future of International and Foreign Language Studies, A Research Conference on National Needs and Policy Implication" from April 11-13 at the Williamsburg Lodge in Colonial Williamsburg.
The future of international and foreign language education is in jeopardy due to shifts in institutional priorities and shrinking public and private investment. International and foreign language studies are the basis for creating a globally competent citizenry and workforce, for strengthening the U.S. ability to collaborate with others to confront global challenges, for enhancing the nation's competitiveness in the global economy, and for producing international experts for national security and diplomatic needs.
Registration is open until April 6.
Jon Huntsman Jr., former governor of Utah, ambassador to China and 2012 presidential candidate, will deliver one of eight keynote speeches, Friday at 8 p.m.  David Obey, United States Representative for Wisconsin's 7th Congressional District from 1969 to 2011, will deliver remarks on Friday at 2:45 p.m.  Kurt Kuehn, Chief Financial Officer of United Parcel Service will deliver remarks on Saturday, 8:45 a.m.
Other keynote speakers on include Thomas Fingar, distinguished fellow in the Freeman Spogli Institute for International Studies at Stanford University, and former deputy director of National Intelligence for Analysis and chairman of the National Intelligence Council (Friday, 3:45 p.m.); Helena Kolenda, program director for Asia, Henry Luce Foundation (Friday, 4:30 p.m.); Anthony Jackson, vice president of the Asia Society (Saturday, 12:15 p.m.); Mark Rosenberg, president of Florida International University (Saturday, 1:45 p.m.); and Robert Keohane, professor of International Affairs at the Woodrow Wilson School at Princeton University (Sunday, 8:30 a.m.).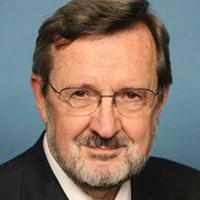 The Conference will bring leaders from a wide variety of sectors to deliver the latest research results on our human resource needs for Americans with global competencies, and consider recommendations for the future of international and foreign language studies.
"We are truly honored to have such an incredible group of professionals participate in this timely conference on the future of U.S. global competence," said Stephen Hanson, vice provost for International Affairs at William & Mary.
"We look forward to a lively, informed discussion on the importance of international and foreign language education among our nation's education priorities," said Miriam A. Kazanjian, consultant to the Coalition for International Education.
Here is the schedule.

In addition to W&M and the Coalition for International Education, the conference is made possible through generous support from the Carnegie Corporation of New York, the Henry Luce Foundation and the following: African Studies Association, American Councils for International Education, Association for Asian Studies, Association for Slavic, East European and Eurasian Studies and Middle East Studies Association.