Board of Visitors receives proposed master plan update
A proposed update to the William & Mary Master Plan was presented Friday to the Board of Visitors. The campus master plan, which was last updated in 2003, provides a road map for planning and facilities at W&M's main campus for the next 20 years. The latest plan follows two years of work by staff, faculty and students to understand the university's long-term facilities and planning needs.
"This is a long-term road map for our campus," said Provost Michael R. Halleran, who served as a co-chair of the steering committee. "Change is an integral part of universities, and we need to ensure that change is considered carefully and anticipated thoughtfully in shaping our future campus."
Halleran and Anna Martin, vice president for administration and also a co-chair of the steering committee, emphasized the master plan is a living document. Some construction projects in the plan are already included as priorities of William & Mary's six-year capital construction plan submitted to the state, Martin said. Other items in the proposed update are not yet in the six-year plan and are considered much more long-term as funding becomes available, Martin added.
"Our goals for this update were to align the campus master plan with the university's strategic plan and our academic and student life needs and to maximize quality and functionality while minimizing cost," Martin said. "In other words, to develop a long-term plan that uses our construction and renovation program funding to its highest and best effect. I believe this plan accomplishes those goals."
In addition to the Master Plan Steering Committee, nine working groups comprised of faculty representatives, alumni, administrators, staff and students assisted in the development of the plan. Martin said the working groups focused on 1) academic space needs, 2) student life and auxiliary spaces 3) athletics and recreation space 4) architecture and design standards 5) administrative space, 6) infrastructure and utilities, 7) land use, landscape and ecology, 8) parking and transportation and 9) residential housing.
As the steering committee considered the overall campus framework, Martin said, they broke down specific areas of focus into six major uses of land: academic and historic, academic, student life, athletics and recreation, mixed use and residential.
"The master plan," Martin added, "informs the university's six-year capital plan and will have an impact on the scope of the projects as well as the sequencing of them."
Academic and Historic
No new structures are contemplated in the area known as W&M's Historic Campus. The area includes the historic buildings in the College Yard through the academic buildings that line the Sunken Garden. Any renovations in this area, Martin said, will occur as a result of change of use and/or facilities condition needs. For example, once a new music facility is added as part of the future "Arts Quarter" near Phi Beta Kappa Hall, Ewell Hall, which now houses the department of music, will be renovated based on both factors, she said.
Academic
This area is referred to "South Campus" and is principally academic facilities bordered by Jamestown Road, Landrum Drive and Ukrop Way.
Martin said the plan recommends replacing two existing structures with two new academic buildings. A fourth phase of the Integrated Science Center (ISC4) would be constructed on the Millington Hall site. Millington is scheduled to be demolished at the completion of ISC3. ISC4 would house Kinesiology (moved from Adair Hall), Computer Science (moved from McGlothlin-Street Hall), Information Technology (moved from Jones Hall) and Mathematics (moved from Jones Hall). A new general academic building would be constructed near the current location of Morton Hall. Martin said Morton and Jones would be demolished.
"The decisions to replace these buildings were driven by two principal factors," Martin said. "First, to enhance interdisciplinary work by improving the adjacencies of  collaborating departments. Second, to replace outdated and inflexible structures with new construction where the cost was comparable to renovating the older structures."
Eric Bradley, chair of the biology department and a member of the master plan working group that reviewed academic space needs, said the plan will address the short- mid- and long-term space and facility needs of the Arts & Sciences.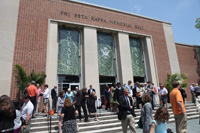 "This has been accomplished in a priority order to address the most pressing concerns first and foremost," said Bradley. "From a faculty perspective, the phasing out of inadequate teaching and research facilities and the replacement of these with purpose-built modern facilities over the next 15 years is the center-piece of the master plan."
The plan acknowledges and integrates the university's number one construction priority – a new Arts Quarter. Built in three phases, the Arts Quarter will feature a new music building, a renovated Phi Beta Kappa Hall for theatre, speech and dance, a renovated Andrews Hall and new studio space for art and art history. The previously approved project is the top priority in W&M's capital plan and will remain so, Martin said.
Plans for "South Campus" also include a renovated recreation and fitness center in Adair Hall, expanded Muscarelle Museum of Art and a new utility plant. Other highlights include a reorganized quad area outside Swem Library to improve navigation of campus and use of open space, a restructured PBK drop-off area with an "Arts Lawn" and an improved use of open spaces to preserve natural topography and storm water control.
Student Life
This area is referred to as "Central Campus" and includes facilities near the Sadler Center, Zable Stadium, Alumni House and One Tribe Place.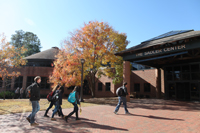 The plan expands the Sadler Center to house Student Affairs offices (moved from Campus Center). The expansion would house such offices as the Dean of Students, Residence Life, Community Engagement and Student Affairs. There would also be construction of a new integrative wellness facility to house an expanded Student Health Center, the Counseling Center and offices for Health Promotions and Recreation.
William & Mary Student Assembly President Colin Danly '14 applauded plans for an integrative wellness center -- and also the concept of creating a core area on campus for student life activities. He said the plan will address a lack of adequate physical space on campus for health-related issues.
"The new health and wellness center is a great step forward in addressing health -related issues at the college, including mental health issues," Danly said. "By bringing these services under one roof and providing additional resources, this is a building that will service the college and the health of William & Mary students for generations."
To make way for expansion to Sadler and the new wellness building, the current health center and the lodges would be demolished, Martin said, adding that the Daily Grind building will remain in place.
"As we announced several years ago, we have known for some time that the Lodges would need to be replaced," Martin said. "After reviewing all of the options, this was determined to be the highest and best use for this area. Any construction in this area will be highly sensitive to the surrounding environment."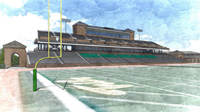 This area also incorporates the continued renovation of One Tribe Place, as well as the previously announced enhancement and renovation of Zable Stadium and the future expansion of the Alumni House.
"Together, the new facilities and the renovation of One Tribe Place reduces programmatic needs for the Campus Center on Jamestown Road, which must be replaced due to age and condition," Martin said. "This will allow for a smaller footprint on the Campus Center site."
Other highlights include improved pedestrian paths between the Sadler Center and Sadler Terrace and Yates Drive, and also between Sadler and One Tribe Place.
Athletics and Recreation
The plan calls for a practice facility to be constructed adjacent to W&M Hall. The facility would include practice courts for men and women's basketball and volleyball. It would also house Sports Medicine and academic study space. The facility would be located on the north side of W&M Hall. Parking spaces would be relocated to the south side of W&M Hall.
"As an integral part of the student experience, the athletics department is excited about its place in this campus wide planning process," said Terry Driscoll, director of athletics. "Having a vision for the potential future of our facilities ensures we can best maximize any and all opportunities to enhance the student-athlete experience as they present themselves." 
The plan also relocates track and field activities from Zable Stadium to an enhanced athletics complex at the Dillard site off Ironbound Road. The complex, which is the current site of Plumeri Park and Martin Family Stadium, would also contain a track and throwing area for track and field events, a small building to house team lockers, rooms for officials, meeting space and restrooms, and parking for events. To accomplish this change, Martin said two long unoccupied residence halls and five houses on the Dillard site would be removed.
Additional campus recreation spaces are also identified in the plan. Relocating the track allows the football team to practice in Zable Stadium. This, in turn, frees up the practice field to the west of Zable for outdoor student recreation use or some combined use by recreation and athletics, Martin said.
"Relocating kinesiology to ISC4 and relocating dance to a renovated PBK will also allow Adair Hall to be renovated to support recreational sports, athletics and fitness programs, which was the original purpose of this building," she said. "These actions will mitigate a significant shortage of outdoor recreational spaces for students."
Mixed Use
The master plan outlines a road map for an area referred to as "Jamestown Place." This includes buildings south of Jamestown Road.
The plan calls for a new mixed-use building on the site of the current Campus Center and Trinkle Hall. The building would accommodate dining services and a spirit shop that would sell W&M and Tribe gear as well as consolidated administrative offices now housed in various buildings on campus.
"The plan also calls for a new vehicular entrance off Jamestown Road adjacent to the Admissions Building that would lead to the parking lot behind the Campus Center," Martin said. "This will greatly improve navigation for visitors to and from campus, create a safer drop-off area for both Admissions and the nearby child care center, and provide a more direct route to visitor parking."
To accomplish the changes, Martin said the Campus Center, Trinkle Hall and a few buildings that house facility functions would be removed or replaced. In addition, three houses would be removed on Jamestown Road. Six other college-owned houses on Jamestown Road would also be eventually replaced with sustainable small houses compatible in scale and character with the surrounding neighborhood, she said. Possibilities for the new houses could be faculty or staff housing, Martin said.
Residential
The plan recommends continuing with the previously approved renovation program for student housing. The extent of renovation and/or replacement will be considered on a case-by-case basis. No additional housing is contemplated in the plan, Martin said.
The Board of Visitors will vote on the updated master plan at its February 2015 meeting. Additional information on the master plan project, including a form for members of the community to offer thoughts on the plan, can be found at www.wm.edu/masterplan.
"I very much appreciate the hard work of staff, faculty and students who worked on the steering committee and working groups," Halleran said. "This plan builds on and respects the traditions and character of the university while providing sufficient flexibility to accommodate changing needs of a modern university."