TechCon: Reviewing the past, improving the future
Eight university labs, the United States Agency for International Development (USAID) staff and international development leaders met Nov. 16-18 at the Williamsburg Lodge to discuss the first year of work and identify areas of collaboration under the USAID Higher Education Solutions Network (HESN) initiative. The College of William & Mary's development lab, AidData, hosted the event.
HESN aims to inspire innovation at universities using scientific and technological approaches to address development's most challenging problems. Established in 2012, each lab receives funding to support a different initiative over the course of five years. After one year of work, the Technical Convening (TechCon) brought university labs and development leaders together to identify how they can work together to succeed in their initiatives through the partnership's network.
"We need to trade based on our comparative advantage," Director of the Institute for the Theory and Practice of International Relations (ITPIR) Mike Tierney said. "We are not going to do this by ourselves within the university. We need great partners who know how development works in the real world in order to bring our ideas and our innovations to scale."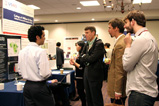 Six other university labs—from the University of California at Berkeley, Michigan State, MIT, Duke, Makerere University and Texas A&M—came together to identify areas of collaboration through breakout sessions, panel discussions and a series of speakers. Staff and students from each lab attended the event.
On Saturday, the students participated in a student summit organized by AidData Research Assistants Lauren Harrison '14, Rachel Benavides '14 and Cate Johnson '15. They also participated in a Story Map tutorial from Esri software providers and a design lab workshop at the Mason School of Business taught by Molly Adair '14.
"I had seen glimpses of AidData's operations side, but I had never been involved in talking about the operations of development labs. Looking at AidData and other labs from that perspective was very interesting," Benavides said. "As an undergrad, I was participating in things with Ph.D students, lab directors and USAID staff. It was very humbling."
Students participated in an "Innovation Marketplace" on Sunday and Monday, showcasing their individual projects in a science-fair setting. Each conference attendee received development dollars to invest in the projects, and four were selected to give final pitches at the end of the conference. AidData's Tracking Underreported Financial Flows won second place in the pitch competition, represented by Dylan Kolhoff '14, Xiao Liu MPP '14 and Emily Qiu MPP '15.
"The conference was a great opportunity to reflect back on what we have done over the past year and to share ideas of collaboration and engagement with other impressive leaders in the field," Director of Operations David Trichler said. "It was also a chance to showcase our incredible students who gave plenary addresses, competed in the innovation marketplace and provided support to the USAID team."

After a weekend of brainstorming, each lab returned to begin another year working towards development solutions.
"Two hundred fifty leaders in the international development space came away knowing that Williamsburg is not just the home of tri-cornered hats and churned butter," Trichler said, "but that it is also a revolutionary hotbed of game-changing ideas for international development."