Richard Bland's president featured at colloquium on two-year colleges
Richard Bland College Friends of the Library will host a colloquium later this month featuring President Debbie L. Sydow, Ph.D., to discuss her newly released book exploring the unique role of two-year colleges as the disruptive innovators of higher education.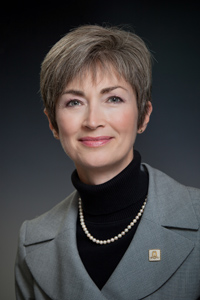 Sydow co-authored Re-Visioning Community Colleges: Positioning for Innovation with Richard Alfred, Emeritus Professor of Higher Education at the Center for the Study of Higher and Postsecondary Education at the University of Michigan. The colloquium will be held from 1 to 2 p.m. on Feb. 28 in the Richard Bland Community Room, located at 11801 Johnson Road, Petersburg, VA. The campus and local communities are invited to attend.
"Re-visioning explores the ways that two-year colleges must innovate by recreating structures and systems with student learning as the top priority," said Sydow, who became president of Richard Bland in July but began researching and writing the book nearly three years ago. "Business as usual is not an option given abysmal college completion rates, particularly for students placed in pre-college level or developmental courses. Therefore, the future will belong to colleges that are able to strategically reinvest and reinvent."
Re-visioning was released by Rowman and Littlefield Publishers in January 2013 and has already received an enthusiastic response in the higher education community. According to Karen A. Stout, president of Montgomery County Community College in Pennsylvania, the book will be assigned reading for participants in their leadership academy "because of its excellent accounting of the community college history and the case it makes for future and necessary innovation."
Richard Bland College provides a distinctive learning experience for students preparing for transfer to selective colleges and universities after completing university-equivalent coursework and associate degrees in arts and science. The College enrolls more than 1,500 students—residential and commuter—on a picturesque campus located just outside historic Petersburg, Virginia, two hours south of Washington, D.C. and one hour west of Williamsburg, Virginia. For more information, visit www.rbc.edu.