Debbie Sydow named president of Richard Bland College
The William & Mary Board of Visitors has named  Debbie L. Sydow, a nationally recognized leader in higher education and the community college sector, as the fourth president of Richard Bland College. Sydow, who currently serves as the president of Onondaga Community College in Syracuse, N.Y., will officially assume the new duties on July 1, 2012.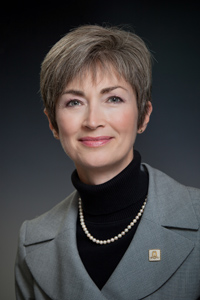 As a branch of William & Mary, Richard Bland College in Petersburg, Va., serves approximately 1,600 students and is the state's only junior college. As its new president, Sydow will succeed James B. McNeer, who will retire this summer. McNeer has worked as a member Richard Bland's faculty and administration for more than four decades, including 16 years as president.
Since 2000, Sydow has served as president of Onondaga Community College, which with nearly 13,000 students, 1,600 employees and nearly 50 academic programs, is one of the largest community colleges in the State University of New York system. She has more than 20 years of experience in higher education administration and has served in leadership positions for national and regional industry associations, including as the president of the New York Community College Association for Presidents, chair of the board of directors of the Institute for Community College Development at Cornell University, and chair of the American Council on Education's Commission on Leadership and Institutional Effectiveness.
"We are delighted that Debbie Sydow has agreed to become the new president of Richard Bland College," said Jeffrey B. Trammell, Rector of the College. "With her proven skills and experience as a college leader, she is the ideal person for this important assignment. By providing excellent academic opportunities to both traditional and non-traditional students, Richard Bland plays such an important role in the Commonwealth of Virginia's higher education footprint."
"We are also very grateful for Jim McNeer's exceptional leadership for so many years. He will be missed but not forgotten."
A native of Abingdon, Va., Sydow received her undergraduate degree in English from the University of Virginia's College at Wise. She earned her master's degree in English from Marquette University and her Ph.D. in English from Indiana University of Pennsylvania.
Sydow is a 20-year veteran in higher education and the community college sector. She began her career as an English professor at Southwest Virginia Community College in Richlands, Va.  In 1993, she became the dean of humanities and social sciences at the school. Two years later, Sydow became the vice president of academic and student services at Mountain Empire Community College in Big Stone Gap, Va., where she would later serve as acting president from 1999-2000.
Since taking the helm at Onondaga, Sydow has overseen the creation of a strategic enrollment management program, which has resulted in a 65 percent increase in enrollment over the past five years. She recently oversaw the college's $7.5 million capital campaign, and her efforts helped to increase the number of donors to the college by 70 percent. Overall, she helped raise $10 million in capital campaign gifts, more than $100 million in grants and $110 million in state and local capital fund appropriations.
"I am honored to assume the presidency of Richard Bland College," Sydow said. "Jim McNeer has been an exceptional leader over the past 16 years as president and has the college positioned well to succeed. The opportunity to build on that progress and assist RBC in establishing and navigating its roadmap for future success has tremendous appeal. I look forward to working closely with the campus and local communities in the coming months."  Sydow will be the first female president of Richard Bland College.
Sydow has been involved in numerous civic and professional organizations throughout her career both in Virginia and New York. She has published numerous academic papers and recently co-authored a book to be released this year as part of the American Council on Education's Community College Series. She has received several awards and honors, including the Association of Community College Trustees (ACCT) 2008 CEO of the Year Award for the Northeast Region and the Phi Theta Kappa National Honor Society's Shirley B. Gordon Award of Distinction.
The search for a new president of Richard Bland College began in March 2011. Dennis H. Liberson, a member of the Board of Visitors, led the search committee, which included three former members of the board, as well as Richard Bland alumni, student and faculty representatives. The committee hosted forums with students, faculty and staff members at Richard Bland to gather input to help guide the search. Members of the public were also invited to send comments about the search to the committee.
"It was wonderful to receive so much community input during the search process," said Liberson. "It helped us to narrow our search to people whose skills would directly address the unique needs of the Richard Bland community. Debbie Sydow has been a transformational leader at Onondaga. She is a perfect fit for Richard Bland and I am looking forward to the work that she will do there."