Poetry and prizes: a Patrick Hayes doubleheader
The Patrick Hayes Writers Series at William & Mary caps one of its most invigorating seasons ever with two days of alumni-related activities on April 11 and 12.

On April 11 at 5 p.m. in Blow Hall 201, Steve Kistulentz '91 and Rebecca Lindenberg '00 will read from their new books of poetry.

The following day, 5 p.m. at Tyler Hall 301, W&M continues more than 50 years of vibrant writing tradition by distributing its annual Alumni Student Literary prizes.
Both programs are free and open to the public, with receptions to follow.
Kistulentz is the author of "The Luckless Age" (Red Hen Press, 2011) and "Little Black DayDream" (Univ. of Akron Press Series, 2012).
"The Luckless Age" won the 2009 Benjamin Saltman Award, and his poetry has appeared in Antioch, Black Warrior, New Letters, Quarterly West and elsewhere..
MacArthur Genius Grant winner Campbell McGrath praised "The Luckless Age" for "captur(ing) the wicked energy and anarchic entropy of American culture…giv(ing) voice to an age, a place, a human life. This is an auspicious and heartily welcome debut."
Kistulentz teaches creative writing, literature, and popular culture at Millsaps College in Jackson, Ms.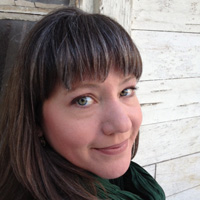 Lindenberg's first book of poems, "Love, An Index," was the inaugural publication of McSweeney's newly minted Poetry Series in 2012. It focuses on her relationship with her partner, poet Craig Arnold, who went missing during a solo hike up the volcanic island of Kuchinoerabu in Japan in April 2009.
Her poems, essays, and criticism appear in several journals, including POETRY, Iowa Review, Colorado Review and Denver Quarterly. She's the recipient of an Amy Lowell Scholarship for American Poets Traveling Abroad, a MacDowell Arts Colony residency, a National Endowment for the Arts Literature Grant, and a Provincetown Fine Arts Work Center Fellowship.  She currently teaches in the english department at Utah State University.
Kistulentz and Lindenberg conclude a series that has featured noted authors Rosalind Brackenbury (writer in residence) in September, Pulitzer Prize finalist and poet David Wojahn in October, literary journalist John Jeremiah Sullivan in November, New York Times best-selling author George Saunders in February and Dayton Literary Peace Prize lifetime achievement winner Tim O'Brien last Month.
"It's been an extraordinary year for the Patrick Hayes Writers Series," said committee chair Nancy Schoenberger. "The remarkable generosity of the late Patrick Hayes makes it possible for our students – and the entire Williamsburg community – to be enriched in a manner many universities can only dream of."
Meanwhile, four of the five literary awards to be distributed on April 12 are named for people with past connections to W&M.
Tiberius Gracchus Jones graduated in 1845 and later became the first president of Richmond College, now the University of Richmond. Glenwood Clark taught English at William & Mary from 1920 to 1964 and was a writer of juvenile fiction. Goronwy Owen was a Welsh poet who immigrated to Virginia in 1757 and taught English at W&M. Howard Scammon began teaching theater at W&M in 1948 and later became widely known as an influential instructor of acting who taught Glenn Close '74 and Linda Lavin '59.
Students submitted their writing in early spring, after which a first round of blind judging was conducted by members of the creative writing faculty. The second and final round of judging was done by writers from outside the English department.