Poet Jess leads off Patrick Hayes Writers Series
The 2013-14 Patrick Hayes Writers Series at William & Mary will open the season with an appearance by acclaimed poet Tyehimba Jess, Thursday, Sept. 26 at 7 p.m. at the newly renovated Tucker Hall theater.

Jess is the author of Leadbelly, an award-winning collection that explores the life of blues musician Huddie "Leadbelly" Ledbetter, and was chosen for the 2004 National Poetry Series.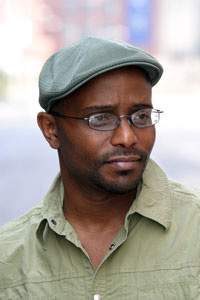 A reviewer for Publishers Weekly noted that "the collection's strength lies in its contradictory forms; from biography to lyric to hard-driving prose poem, boast to song, all soaked in the rhythm and dialect of Southern blues and the demands of honoring one's talent."
Jess, a Detroit native who earned his Bachelor of Arts degree from the University of Chicago and his Masters of Fine Arts from New York University, was the Poetry Ambassador to Accra, Ghana, and has won the prestigious Whiting Award. He is a past member of the Chicago Green Mill Slam team, and his work has been featured in numerous anthologies.
Jess has been awarded fellowships from the National Endowment for the Arts, the Illinois Arts Council and the Fine Arts Work Center at Provincetown (Mass.), as well as a Lannan Writing Residency in Santa Fe, N.M. Jess has taught at the Juilliard School, the University of Illinois, Urbana-Champaign, and at the College of Staten Island in New York.
The reading is free and open to the public. There will be a reception and book signing following the reading. For more information, contact Jeanne Smith at (757) 221-3903.