Figures of speech: Yuri Lowenthal '93 finds his voice
The following story originally appeared in the spring 2013 issue of the W&M Alumni Magazine – Ed.
Getting shot, stabbed, and blown up might not sound like much fun, but for Yuri Lowenthal '93, it's just another day at the office.
Lowenthal is a professional voice actor, lending his talents to hundreds of video game and cartoon characters. At one point or another, Lowenthal has provided the voice for characters like Superman, the Prince from the "Prince of Persia," Ben Tennyson on the cartoon "Ben 10" and Sasuke Uchiha from the anime series "Naruto."
Born in Ohio, Lowenthal grew up in Nashville, Tenn., and Northern Virginia. Because his father worked for the U.S. Agency for International Development, Lowenthal lived in the West African country of Niger for two years. When it came time for college, William & Mary's gymnastics team, theatre, Japanese program and in-state tuition made it Lowenthal's first choice. He took part in these offerings, as well as serving in the school's Army ROTC program.
"William & Mary allowed me to explore a lot of things that I was interested in," Lowenthal says. "All of those various things were invaluable in making me the person that I am today."
Lowenthal pursued a degree in East Asian studies, and spent his junior year abroad in Japan. After graduating, he got a job working for the Japanese government through the Japan Exchange and Teaching Programme. Even though Lowenthal felt he had been groomed for the Foreign Service, after two years in Japan he decided that acting was what he truly wished to pursue.
"I realized that I really did love it," Lowenthal says. "I didn't want it to be one of those situations where I look back 20 years from now and say 'Wow, that acting thing, I wonder if I could have done that.'"
Lowenthal moved to New York City and got involved with the theater scene, getting cast in Off-Off-Broadway shows.
"There were plays where there were more people onstage than in the audience," he says with a laugh. While in New York, he met fellow actor Tara Platt, and the two began dating. Six months into their relationship, Platt decided to head to Los Angeles for pilot season, when networks cast for the year's new TV shows. Lowenthal volunteered to help her drive to L.A., planning to fly back to New York once she was settled. But along the way, those plans changed, and in the middle of a snowstorm in Bowling Green, Ohio, Lowenthal proposed.
"I'd been scraping ice off the windshield in the parking lot of a Chi-Chi's, and I asked her to marry me," Lowenthal says. "Not the most romantic, but then again, it wasn't anything I had planned. It just came out of my mouth."
Platt was caught off guard, and the couple decided to think it over. For the next five or six days of the trip, neither brought up the proposal. But on New Year's Eve near the Hoover Dam, they hit heavy traffic, and suddenly both began talking about marriage.
"There was no real reason to wait around for it. Why not get married that night in Vegas?" Lowenthal says. "That's exactly what we ended up doing after midnight that night."
After helping Platt get settled in Los Angeles, Lowenthal packed up his things in New York and moved out west. One day, after months of auditioning for live-action acting roles, Platt brought up the idea of taking a class for voiceover work. Though he labels himself a huge nerd, Lowenthal says he'd never thought of pursuing voice acting.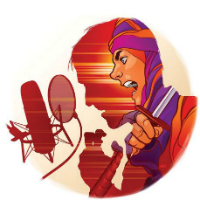 "I always loved watching cartoons and playing video games," Lowenthal says. "All of these things should have led me to believe that voiceover would be a thing to do, but I had never considered it."
After attending the class and putting together a demo reel, Lowenthal got an agent and began providing voices for a Japanese animated series. He soon had enough work that he was able to make it his full-time occupation.
Even though his voice has appeared in blockbuster video game franchises like "Call of Duty," "Uncharted" and "Final Fantasy," Lowenthal says his favorite roles are those he can play multiple times.
He counts the Prince from "Prince of Persia," Sasuke from "Naruto" and Ben Tennyson from "Ben 10" as some of his favorite reoccurring parts. Though he's developed a close bond with these roles, characters he grew up with — like Superman — are still the highlights of his job. "I didn't know where to go after that," he says of voicing Superman. "Do you retire? You get huge nerd cred for that. … The career highs for me are getting to work on projects I already cared about."
Given that experience, his casting as one of the mutant sons of Batman in the animated adaptation of Frank Miller's "The Dark Knight Returns" seemed predetermined.
"I dressed up as the Son of Batman for the opening of the first Batman movie with Michael Keaton," Lowenthal says. "To get cast as the Son of Batman 20 years later is such a big deal for me."
Another favorite role was that of Jinno/Kuma on the television series "Afro Samurai." The show constantly pitted Lowenthal's character against Afro, a samurai voiced by Samuel L. Jackson.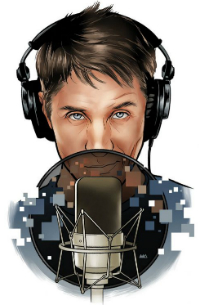 "The first question many people ask me about is what it was like to work with Sam Jackson," Lowenthal says. "The fact of the matter is, even though he and I had a billion scenes together and we fought all the time, we never recorded together."
Lowenthal eventually met Jackson at a release party for the show and explained who he was.
"He was a totally sweet guy," Lowenthal says. "That will be the only time I'll get to kick Sam Jackson's ass."
Even though Lowenthal has made a name for himself in the world of voice work, it's rare that he'll get a script in advance, especially for video games.
"There's a lot of secrecy involved. They don't want the script getting out," Lowenthal says. Even when recording a role, code names are used, meaning even he might not always know which game he's working on — although because he plays a lot of video games in his free time, he can usually make an educated guess. "It's fun. It's like being a spy."
Because modern video games often have branching scenarios and stories, the actual recording of a voice actor can be time-consuming and strenuous. Lowenthal says he still uses the acting techniques he learned in college to help protect his voice.
"Video game work can be difficult," he says. "There's a lot of screaming, getting blown up, getting shot and set on fire. If you play video games, you know a lot of that happens, and you've got to be able to do that for four hours at a time and not lose your voice."
Lowenthal still enjoys live-action acting and has appeared in television shows like "Terminator: The Sarah Connor Chronicles" and "Gilmore Girls." In 2004, Lowenthal and Platt founded Monkey Kingdom Productions, which has made both films and the Web series "Shelf Life." But even film, television and video games weren't enough for the pair: three years ago they jointly published the book Voice-Over Voice Actor, which offers beginners advice on getting into the business.
"Every day I wake up and realize that I get to do this for a living," Lowenthal says. "I've got to be thankful for that."