Figurative painter Jerome Witkin continues art lecture series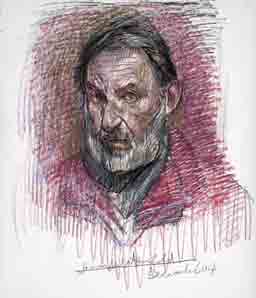 The William & Mary department of art & art history presents Distinguished Lecture Series speaker Jerome Witkin on Oct. 7 at 6 p.m. in Andrews Hall Room 101.
The event is free and open to the public and is preceded with a drawing demo in the afternoon with W&M students.
Witkin is recognized as one of the most formidable contemporary figurative painters, and many of his works explore issues of spirituality and inner landscapes drawn directly from his life experiences.
Witkin's works can be found in the permanent collection of prominent museums around the world, including four pieces in the Metropolitan Museum of Art in New York, the Smithsonian's Hirshhorn Museum and Sculpture Garden in Washington, D.C., and the Uffizi Gallery in Florence, Italy.
The Los Angeles Times cites Witkin's work to be "a break-through in post-Cold-War art." The San Francisco Chronicle's Kenneth Baker cites that "Witkin's only peer is Lucian Freud…. Witkin is one of the finest realist painters working today…he stages pictorial dramas that grapple with contemporary historical crises and moral pressures, while offering a lavish physical display of his medium…."
Brian Kreydatus, associate professor of art and art history states, "Witkin is a terrific artist and speaker whose paintings deal with the political, social and cultural issues of today. The department, and the senior majors in particular, are looking forward to having this contemporary master painter on campus".
Recognized as a prodigious talent, at 14 Witkin entered the High School of Music and Art in New York, and subsequently studied at the Skowhegan School of Painting and Sculpture, Cooper Union, the Berlin Academy and the University of Pennsylvania. He is the recipient of a Pulitzer Traveling Fellowship and Guggenheim Fellowship.
Launched in spring 2011, the Art & Art History Distinguished Lecture Series is designed to bring new, high-profile artists and art critics to campus each semester to discuss topics within the fields of art and art history.