Veteran painter James McGarrell to give lecture on Nov. 16
James McGarrell, widely known for his verso variant or reversible diptych paintings, will continue the Art & Art History Distinguished Lecture Series with a featured lecture entitled, "The Rules of the Game."
Free and open to the public, the lecture will take place on Wednesday, Nov. 16, at 5 p.m. in Andrews Hall on the campus of William & Mary. McGarrell, 82, is a narrative figurative painter who has had more than 100 solo exhibitions at galleries and museums in the United States, Great Britain, France, and Italy during the past half-century.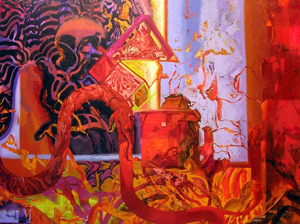 His work can be found in the permanent collections of many prominent institutions from all over the world, including the Metropolitan Museum, the Museum of Modern Art and the Whitney Museum of Art in New York City; the Hirshhorn Museum and Sculpture Garden in Washington D.C., The Chicago Art Institute, and the art museums of New Orleans, Saint Louis, Santa Barbara, Cal., Hamburg in Germany, the Rose Art Museum of Brandeis University, and the Pennsylvania Academy in Philadelphia.
In 1995, McGarrell was the recipient of the Jimmy Ernst Lifetime Achievement Award from the American Institute of Arts and Letters.  He has held residencies, grants, and fellowships from the National Endowment for the Arts, the John Simon Guggenheim Foundation, and the study centers of the Bogliasco Foundation outside Genoa and the Rockefeller Foundation at Bellagio, Italy. Assistant Professor of Art Nicole Santiago said the Art and Art History department is thrilled to have McGarrell, a practicing artist, lecture students, faculty, and staff at the College. McGarrell's non-abstract, figurative, and narrative works have a strong following, she said.
Most notably are his verso variant paintings, or two canvasses splayed side-by-side. Flip the panels around and an entirely new piece of artwork is created, as seen in "The Great Palindrome Still Life," 1998.
"People really like these images because they're intriguing," sad Santiago. "These captivating pieces are inventive and technically difficult to create."
After graduating from the graduate painting program at the University of California, Los Angeles, McGarrell was the recipient of a Fulbright grant to the State Academy of Art in Stuttgart, Germany. He returned from Germany in 1956 and enjoyed a career in academia, teaching at Reed College, Skowhegan Indiana University, and Washington University in St. Louis. He retired from teaching in 1993.
Launched last spring, the Art & Art History Distinguished Lecture Series is designed to bring new, high-profile artists and art critics to campus each semester to discuss topics within the fields of art and art history.