Ewell concert to honor late professor
This Sunday, Sept. 22, marks the beginning of the Ewell Concert Series' 2013-2014 season with a performance by the critically acclaimed trio Percussion Group Cincinnati. The concert will be given in memory of William DeFotis, a William & Mary composer and conductor who passed away in 2003 at the age of 49 from multiple sclerosis.
Based at the College-Conservatory of Music of the University of Cincinnati, Percussion Group Cincinnati is an innovative trio whose members incorporate unusual instruments (such as decks of cards, computers, and drums) and use styles from all over the world, from Chile to China, in their music. Some of DeFotis' pieces will be performed in the concert, which will be held at 7:30 p.m. in the Williamsburg Library Theatre.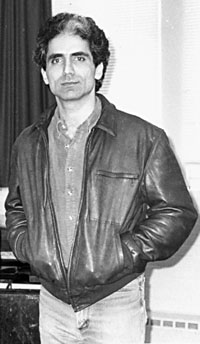 DeFotis, who taught at the university from 1986-1996, made a strong impression on campus and especially the Department of Music where he worked. DeFotis also taught in women's studies and helped bring the university into a structure more conducive to cross-disciplinary studies.
"Bill was a passionate, enthusiastic and delightful musician, teacher and friend," said Director of Applied Music Judith Zwelling.
Zwelling is the manager of the Ewell Concert Series and knew DeFotis personally from their time at W&M.
"He was immersed in music — composing, reading, and thinking about music — until almost the very end," she said.
Katherine Preston, Bottoms Professor of Music, agreed. She worked with DeFotis while at W&M, and she remembered him as being a very positive, influential part of campus.
"He was just a joyful kind of person," she added. "Always trying new things, musically and academically. His music was full of wit and laughter, and he was very interested in reaching out across interdisciplinary boundaries."
DeFotis' music was not limited to W&M. He conducted myriad pieces with a number of different groups, including the University of Cincinnati College-Conservatory of Music, the University of California in San Diego, and the La Jolla Museum of Contemporary Art; his compositions have been played with groups from the LaSalle Quartet and Opus One to the Cincinnati College-Conservatory Philharmonia and the Virginia Symphony Orchestra. Even after his medical retirement from W&M, DeFotis did not stop making music. He recorded a dozen songs that were later put on Centaur Records' Satire is Serious Business CD.
"We miss him still," Preston said. "He was a very memorable guy, and definitely an  asset to the department."
The concert is co-sponsored by the Williamsburg Regional Library's Dewey Decibel Series. Tickets are $10 for the general public, $5 students for students and may be purchased at the door.