Gavin DeGraw, Good Old War to perform at W&M's 2013 Charter Day concert
Singer and songwriter Gavin DeGraw will perform William & Mary's 2013 Charter Day concert with opening act Good Old War.
The event will be held at 8 p.m. Feb. 9, 2013, in William & Mary Hall's Kaplan Arena. Doors will open for the event at 6:30 p.m. Tickets are now on sale at the William & Mary Ticket Office and online.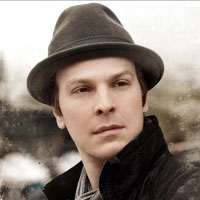 The event is being sponsored by Global Flight Relief, a non-profit organization based in Newport News that provides air transportation solutions for humanitarian and disaster relief agencies around the world.
In advance, general admission tickets for the elevated sections are $15 for students, $25 for faculty and staff (with a promotional code) and $30 for the public. Floor tickets are an additional $10.
Faculty and staff will find the special promotional code in the W&M Digest.
All tickets prices are $5 more at the door on the day of the concert. A valid W&M ID must be presented at the door for students, faculty and staff tickets.
Prohibited items at the event include: all outside food and drinks, coolers and other food containers, illegal substances, bags or backpacks bigger than 1 foot by 1 foot by 1 foot, balls or Frisbees, umbrellas, pets, artificial noisemakers, laser pointers, firearms or other weapons, cameras with a lens greater than 4 inches, laptops, tobacco products and anything deemed unsafe by police of event staff.
About the performers
DeGraw is known for chart-topping hits like "Chariot" and "In Love with a Girl."
His debut album, "Chariot," was released in 2003 and went platinum. One of the album's singles, "I Don't Want to Be," became the soundtrack for the popular TV series One Tree Hill. DeGraw released a self-titled second album in 2008 and a third, titled "Free," in 2009. The singer's fourth album, "Sweeter," was released in 2011, and its single "Not Over You" reached number one on the Adult Top 40 chart.
DeGraw's songs have been used in multiple TV episodes and movies. The singer was also a contestant on the 2012 season of Dancing with the Stars.
Good Old War is an indie-folk band from Philadelphia that released its third album "Come Back as Rain" in March 2012.
Last year's Charter Day concert was performed by Third Eye Blind and Ben Kweller. In 2011, The Roots headlined the event.
The concert is a part of William & Mary's annual Charter Day weekend, which celebrates the day on which the College received its royal charter in 1693. W&M's annual Charter Day ceremony will be held on Feb. 8, 2013.
About Global Flight Relief
Founded by Scott Terry, CEO/Principal of Tempus Jets, Inc., Global Flight Relief has conducted missions in East Africa supporting HEAL Africa, the Eastern Congo Initiative and the Bridgeway Foundation and in the Caribbean in conduction with the World Pediatric Program. GFR is based in Newport News, VA with additional operations in Greenville SC and Uganda. GFR's aircraft are capable of conducting medical evacuation, delivery of food and medicines in remote areas under austere conditions, and other logistics support missions where people are in need of humanitarian assistance. For more information, contact Amanda Johnson at ajohnson@globalflightrelief.org.
Editor's note: This story was updated Jan. 14, 2013.