Ron Price named associate vice president for human resources
Ron Price has been named as William & Mary's next associate vice president for human resources.
Price currently serves as the associate vice president of human resources and equity officer for Utah Valley University, the largest public university in the Utah with more than 33,000 students. He will move into the William & Mary position on Aug. 13 following the retirement of Earleen O'Roark, who worked at William & Mary for approximately 18 years.
"We are very pleased that Ron has agreed to join our team," said Anna Martin, vice president for administration. "He brings a wealth of knowledge and experience to our Human Resources effort as well as a simply terrific way with people."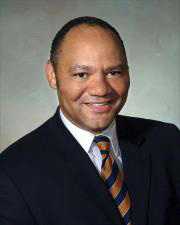 In his current position at Utah Valley University, which has more than 3,300 employees, Price is responsible for overseeing a staff of 22 and the school's many human resources efforts, including recruitment and retention, employee relations, training and development and equal opportunity. As the university's equity officer, he ensures the school's compliance with multiple state and federal laws and regulations regarding civil rights and grievances.
"The College of William & Mary is truly a magnificent place where great people are engaged passionately in a great purpose," said Price. "I look forward to the opportunity to collaborate with the faculty, students and staff in the important work of human capital management alignment to the mission of the College"
Prior to his time at Utah Valley, Price spent most of his career at Virginia universities. From 2008 until he left for Utah in 2011, Price served as the director of human resources for the University of Virginia's housing and conference services division. Before that, he was the director of human resources for the Darden School of Business at UVA.
From 1999 to 2000, he was the assistant dean for student academic programs at Virginia Commonwealth University. Before that, he served as the university's assistant to the vice provost for university external relations.
Price received his undergraduate and master's degrees from the University of Virginia, and where he also finished all of the work for the doctoral degree in government and foreign affairs with the exception of the dissertation. Early in his career, he worked at the university, serving at different times as the director of student services and minority student programs, in human resources he worked as a classification and compensation analyst and a human resources generalist.
Throughout his career, Price has earned professional certifications from several executive education programs, including Harvard University's John F. Kennedy School of Government program for the art and practice of leadership and the UCLA Anderson School of Business for the African American Leadership Institute. He has won numerous awards, including the U.S. First Robotics Award for Leading Students to Engineering and the Southeastern Consortium for Engineering Award for Outstanding Service.
Price has also been highly involved in community service. He has served on boards and committees for multiple organizations, including the Global Diversity and Inclusion Foundation Board and the College University Personnel Association. He also founded 100 Black Men of Central Virginia, which seeks to address the achievement gap in central Virginia.