Pianist returns to W&M after world tour
After performing in places ranging from the Amazon Basin to New Zealand, celebrated pianist Anna Kijanowska will once again grace the College's stage Tuesday night to perform with the William & Mary Symphony Orchestra.
The performance will be the first that Kijanowska has given locally since spending five semesters away from the College, teaching and performing throughout the world. It is one of two performances that Kijanowska, a member of the Performing Artist Faculty, will give at the College this semester.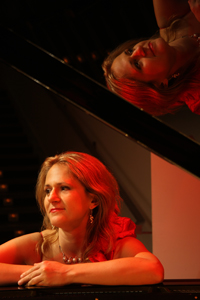 During her first return appearance at the College, Kijanowska will perform with William & Mary Symphony Orchestra under the direction of conductor Grant Gilman, who is new to the position this semester. The event, slotted for Feb. 28 at 8 p.m. in Phi Beta Kappa Hall, will feature a performance of Bela Bartok's Piano Concerto No. 3, the 20th century composer's last final work. Kijanowska and the orchestra perform the concerto again at Swathmore College near Philadelphia in March.
The next month, on April 1, Kijanowska will again take the stage at William & Mary, this time performing with Sharon Roffman, a noted violinist whose accomplishments include being named a prizewinner in the Naumburg Foundation International Competition. The Ewell Concert Series performance, scheduled for 4:30 p.m. in Ewell Recital Hall, will include music by Cesar Franck and Szymanowski.
"Anna's wealth of performing and teaching experience and her desire for excellence makes her a wonderful fit for the Department of Music," said Director of Applied Music Judy Zwerdling Zwelling.
During her time away from the College, Kijanowska taught at the University of Nevada in Las Vegas and gave classes and performances around America and in countries around the globe, including Poland, Singapore, New Zealand, The Philippines, Indonesia, China, Brazil, South Africa, Australia, and Peru.
Kijanowska, who moved to the United States from Poland in 1995, said that her travels helped her learn how to approach a range of audiences – from those who know the notes to every compositions she plays to those who have never heard classical music or even the piano before.
"It really enriched me and let me not only understand different cultures but also contribute," she said. "It's not only about experiencing it yourself; it's also about giving and sharing."
In that spirit, Kijanowska said that she is now using that experience in her daily interactions with the College's diverse student population, which includes numerous international students.
"I think it really helps me to understand the cultural differences and to connect with people much easier and much deeper by knowing more about the world and about different cultures," she said.
Both of her upcoming performances at the College can be enjoyed by a variety of audiences, Kijanowska said. However, often people hold preconceived notions about classical music.
"It's really for everybody if you just allow yourself to come without any baggage and without thinking that it's just boring and for old people," she said. "I think it can really enrich everybody, if you approach it in the right way."
In her experience with students, Kijanowska said, "once they start trying it, and performing it and going to concerts, they get so involved they can't stop."
Additionally, numerous studies have shown the positive effects that classical music can have on learning, said the pianist.
"It's so important for the brain," she said, adding that one of her students – a business major -- told her that he feels smarter after he practices.
As she prepares for her two upcoming concerts in Williamsburg, Kijanowska is reflecting on her experiences from around the globe and encouraging those at the College to give classical music a try – like so many did during her international performances.
"They may be surprised and find that they like it a lot," she said.