Gates scholarship paves way for Norfolk student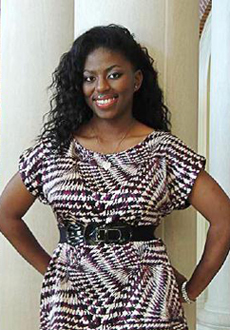 Micah LeMelle '16 thought the announcement for her to report to the main office of Norfolk's Booker T. Washington High School was strange. The National Honor Society president and student council treasurer with a near-perfect school record was certain she was not in trouble.
Nevertheless, she braced for the worst that April afternoon as she opened the door to the principal's office. Anxiety turned quickly to elation as her family and principal greeted her with the big news: LeMelle was one of only 1,000 high school seniors nationwide and one of just 19 students from Virginia awarded the Gates Millennium Scholarship out of a total of 25,000 applicants.
"Everyone was crying and yelling; it was so exciting," LeMelle said. "Never before have I been given so much opportunity."  
Established in 1999 with a $1.6 billion grant from the Bill & Melinda Gates Foundation and administered by the United Negro College Fund, the Gates Millennium Scholarship Program provides merit-based scholarships to high school students of color with outstanding records of academic achievement, extracurricular involvement and community leadership. Eligible students must qualify for federal Pell Grants and demonstrate significant financial need.
LeMelle is just the third student to come to William & Mary from Booker T. Washington High School since 2005. She cited the welcoming campus community and helpful on-campus programs, including the Escape program for admitted students of color and the Preparing for Life as a University Student (PLUS) Program as her principal reasons for selecting William & Mary. 
"Unlike any other schools that I was considering, William & Mary really reached out to me to make me feel welcome," said LeMelle. "It seemed like everyone greeted me with a big simile and was eager to meet me. I immediately felt welcomed and included and like I was already a part of campus."
The Gates Millennium Scholarship covers whatever costs of attendance are not met by federal aid, institutional aid and a student's expected family contribution. The scholarship is good through graduation; however, Gates Millennium Scholars who earn degrees in Science, Technology, Engineering and Math (STEM) fields are eligible for an additional five years of scholarship funding for post-graduate studies.
In addition to providing substantial financial support, the Gates Millennium Scholars Program provides recipients with academic advising, mentoring and leadership development through their college years.
LeMelle is interested in studying International Relations and public health.