Music faculty to present Black History Month performances
Members of William & Mary's music faculty will present performances -- both on stage and on TV -- in honor of Black History Month in the next few weeks.
The Harris Simon Trio will be the featured artist during a worship service at a local church on Jan. 29, and The Now & Then Trio will record a show for WCTV Cox Channel 48, which will air Feb. 16-18.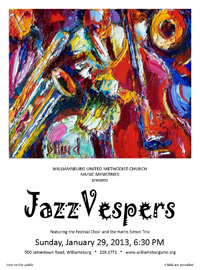 The Harris Simon Trio, whose namesake is director of the jazz combo and an instructor of jazz piano at William & Mary, will perform at the Williamsburg United Methodist Church's second annual Jazz Vespers concert, held in honor of Black History Month, at 6:30 p.m. on Jan. 29. According to an informational flyer about the event, the service will "pay tribute to the many hymns and songs from (United Methodist) hymnals that represent the history and spirit of the African-American hymn tradition." The event is free and open to the public.
In February, The Now & Then Trio, which includes jazz bass instructor Waddell (Eddie) Edwards and jazz trumpet instructor Bob Ransom, will team with WCTV Cox Channel 48 to record an episode of "Thinking Out Loud" for Black History Month. The 30-minute show is expected to air on Feb. 16 at 7 p.m. and 10 p.m.; Feb. 17 at noon, 8:30 p.m. and 11:30 p.m.; and Feb. 18 at 9 a.m. The show will also be streamed live at cityofchesapeake.net/TV, and – after its first showing on the 16th – it will be archived online on the same website.
For more upcoming William & Mary music events, visit http://events.wm.edu/music/.