Homecoming offers events for the entire W&M community
William & Mary's Homecoming weekend is just around the corner, and this year's schedule promises events that will appeal to a variety of people.
"Homecoming promises to be the best yet," said Karen Cottrell, executive vice president of the Alumni Association. "This year we have new exciting events that compliment our longstanding traditions. The weekend will bring our entire community together. Everyone is welcome."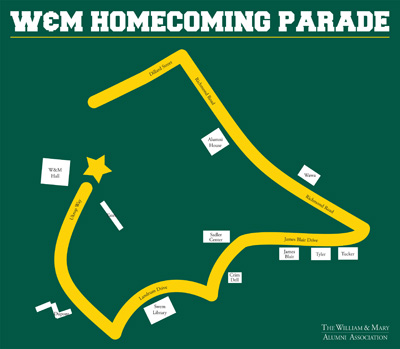 The weekend of festivities, to be held Oct. 25-28, is not only a chance for alumni to return to campus, but it is also an opportunity for current members of the campus community – students, faculty and staff – to celebrate the university and show off their Tribe Pride.
Following last year's successful day change, the Homecoming parade will once again take place on Friday afternoon, beginning at 4:30 p.m. The parade, which will be streamed live online, will wind its way through campus before taking a final lap down Richmond Road.
A pep rally will follow the parade at 6 p.m. on the lawn of the Alumni House, followed by a block party on Richmond Road at 7 p.m. The block party will feature food from local eateries, beverage trucks and live music.
To prepare for the block party, portions of a few local roads will be closed immediately following the parade. Richmond Road will be closed between Wawa and the Hospitality House, and Scotland Street will be closed to Braxon Court.
Along with plenty of opportunities to show some pep, Friday will also offer a chance for Homecoming attendees to do some learning with a newly revived lecture series. The Sundial Speaker Series will offer lectures on a variety of topics, including politics and humor. It will also offer opportunities to meet with Coach Jimmye Laycock and participate in a beer tasting with the Dog Street Pub. The series is free, but registration for each event is required.
On Saturday, the campus community may join in the all-alumni tailgate, from noon to 3 p.m. in the Sunken Garden. Tickets to the tailgate are $25 for adults and $15 for children.
Following the Tribe football game against Maine, the campus community is invited to participate in the Saturday Night Bash in the Sunken Garden, which will offer a variety of finger foods. This year, the bash has been moved to 8:30 p.m., and the cost has dropped to $15.
For more Homecoming events and registration information, visit the Alumni Association's website.