Global Film Festival focuses on 'Film and the City'
The College of William and Mary's fifth annual Global Film Festival will feature films, musical performances, and guest filmmakers from around the world from Feb. 16-19. Most of the events will be held at Colonial Williamsburg's historic Kimball Theatre.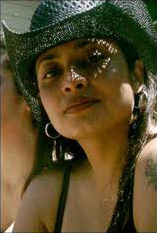 Among the festival's many highlights will be an appearance Sunday of award-winning Chicana filmmaker Aurora Guerrero presenting the Virginia premiere of her film "Mosquita y Mari" (2011), and two animated features, "A Cat in Paris" (2011) and "Chico & Rita" (2011). Both were recently nominated for Oscars.

On Saturday night, the festival is partnering with the William & Mary Confucius Institute, opening this spring, to screen a pair of Chinese films that showcase both mainland China's "Urban Generation" film movement and the Hong Kong crime film.

"Beijing Bicycle" (1998) will feature a live video feed Q&A with director Xiaoshuai Wang. The later film, "Infernal Affairs" (2002), is the Hong Kong crime film that inspired Martin Scorsese's "Departed" (2006).

In addition, on Thursday, the College's film studies class will present a "Williamsburg City Symphony," part of a showcase of short "city symphony" documentaries. The City Symphony is a genre of documentary filmmaking that dates back to the silent era, grew out of avant-garde filmmaking, and was heavily influenced by the Soviet montage movement.

"What excites me about the 'Williamsburg City Symphony' is that it is a special documentary project that we organized as one of the ways to program the Film Festival," said festival director Timothy Barnard. "Built into the festival are opportunities to showcase student filmmaking."

W&M film students spent the fall 2011 semester exploring and examining Williamsburg, in the process shooting hundreds of hours of film. What they discovered was boiled down to about 15 minutes.

In addition, the four-day event explores the relationships among cities, films, and filmmaking with a program of films from Cuba, France, India, Ireland, Spain, the United Kingdom, and the United States.

The festival includes late-night "City Cult" film screenings on Thursday and Friday programmed by popular demand. Thursday's film, "The Warriors" (1979), will be introduced by actor David Patrick Kelly, while Friday's feature will be "Once" (2006) from Ireland.

The Festival is again hosting two special events for families and children of all ages. These include a pre-festival screening on Saturday, Feb. 11 of "The Red Balloon" (1956) and "A Cat in Paris," and a Saturday morning screening of Charlie Chaplin's classic "City Lights" (1931). Both screenings will feature complimentary ice cream and special souvenirs for all kids.

Sunday's program will honor Chicana director Aurora Guerrero who will introduce "Mosquita y Mari," her feature film debut about two Latina youths coming of age in East Los Angeles that premiered at the Sundance Film Festival last month.

The festival will close on Sunday night with a cinematic concert at the Commonwealth Auditorium that will feature city film clips accompanied by the W&M Wind Symphony, directed by Paul K. Bhasin.

About the festival

The Global Film Festival is an annual event in conjunction with the Reves Center for International Studies and the Charles Center at William & Mary. In the last five years, the Festival has rapidly expanded, and last year's festival brought in over 4,500 patrons.

The majority of the festival's events, as in previous years, are free and open to the public (all events do require a ticket). A modest admission for one special off-site event and select marquee film screenings will be charged.

The festival is again offering VIP passes, and this year has expanded the program in a partnership with restaurants in Merchant's Square offering special deals over the festival weekend. Passes cost $30 for the general public and $25 for students and grant access to all screenings, receptions, and exclusive events, and come with special festival swag bag. Passes and tickets can be purchased at the Kimball box office or by calling 1-800-HISTORY.

For more information and a complete schedule of events, please visit http://filmfestival.wm.edu/.

For an example of a City Symphony, here is a clip from 1921's "Manhatta," which will be shown on Feb. 16 at 5:30 p.m.