2012 Global Film Festival Schedule
Schedule of Events


THURSDAY, FEBRUARY 16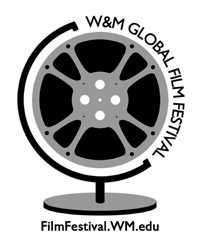 5:30 – 6:30pm, Kimball Theatre: City Symphonies, Origins and New Beginnings: The W&M GFF City Symphony Documentary Project
Manhatta (1921 / USA / Charles Sheeler & Paul Strand / 10m / NR)
This film, one of the forerunners of the city symphony genre, chronicles a day in the life of New York City. Using excerpts from Walt Whitman's Leaves of Grass as intertitles, the filmmakers lyrically piece together a portrait of Manhattan in all of its bustling, urban splendor.

A propos de Nice (1930 / France / Jean Vigo / 25m / NR)
This groundbreaking film documents the daily life of Nice's inhabitants, from factory workers to wealthy tourists. While Vigo's portrait starts out as a seemingly benign tourist destination exposé, it ultimately reveals the social injustice that lurks beneath the chic surface of this famous French resort town.

The Eye Enters Life: A Global City Symphony
(2012 / USA / W&M Film Students / 10m / NR)
In the summer of 2011, William & Mary students and faculty studying or traveling abroad captured video footage of cities around the world. That fall, three film production students compiled and edited this footage creating a composite global city symphony documentary. As a new take on the city symphony montage tradition, the film weaves together snapshots of city life world-wide, cuing its viewers to imagine one unified global city.

A New Olde Town, The World Turned Upside Down: A Williamsburg City Symphony
(2012 / USA / W&M Film Students / 12m / NR)
Last fall, a team of William & Mary students led by Prof. Tim Barnard and Filmmaker-in-Residence Jes Therkelsen set out to capture the city of Williamsburg on film and in the spirit of the avant-garde city symphony documentary genre. The goal was to compile their footage into a lyrical portrait of the town, capturing its many facets. From work to leisure, historic to modern, young to old to ancient, this film offers a cinematic, "symphonic" vision of Williamsburg today.         
6:30 – 8pm, Kimball Theatre Lobby: Festival Opening Night Reception

8pm, Kimball Theatre
Dhobi Ghat/Mumbai Diaries (2010 / India / Kiran Rao / 100m / NR)
Kiran Rao's directorial debut pays tribute to the city of Mumbai and its people, as they experience love, loneliness, and loss. Blending a rich palette of painterly colors and sharp documentary realism, the film tells the story of Mumbai through an interwoven narrative of four people from very different backgrounds. As their worlds intersect, their lives change irreversibly as a result of their relationships with each other and the city.
Tickets: $3/General Public, $2/W&M Students, or GFF VIP Pass

10:30 p.m., Kimball Theater: Programming by Popular Demand
The Warriors (1979 / USA / Walter Hill / 92m / R) 
This controversial 70's-era New York gangland film, directed by Walter Hill, became a cult classic with its quasi-gritty, quasi-campy depiction of New York City's "Armies of the Night," whose members outnumber police officers 5 to 1. Framed for the death of Cyrus, a powerful gang leader trying to organize all gangs to take over the city, the Warriors find themselves journeying through enemy territory trying to make it back to their home turf of Coney Island.
FRIDAY, FEBRUARY 17
12pm, The Reves Room at the Reves Center for International Studies
Special Guest Speaker: Laith Ulaby, "Music, Media, and the Arab Spring"
An Event Co-Sponsored by The Critchfield Endowment for Middle Eastern Studies
1-2 pm, Kimball Theater: St. Petersburg Documentary Project 
A series of documentary short films about the city of St. Petersburg made by the W&M students of the college's 2011 St. Petersburg Summer Program and produced by Prof. Sasha Prokhorov and W&M Filmmaker-in-Residence Jes Therkelsen. 
2:30 – 4pm, Kimball Theatre: Surprise Film TBA! 
4:00 – 6:00 pm: VIP Cocktail Party
Venue and details TBA.
VIP Pass or ticket required.
6:30 pm, Kimball Theater
Following (1998 / UK / Christopher Nolan / 69m / R) 
Shot on weekends in London over the course of a year, and with a budget of less than £5,000, this first feature film nonetheless showcases the groundbreaking narrative and cinematic style that have made Christopher Nolan one of the most acclaimed directors working today. The non-linear story of a UB40 aspiring writer who becomes obsessed with following strangers through the streets of London offers a contemporary noir treatment of the alienated urban subject.
8pm, Kimball Theatre
Fauteuil d'orchestre/Avenue Montaigne (2006 / France / Danièle Thompson / 106m /PG-13) 
This enchanting film follows a young woman named Jessica who arrives in Paris with dreams of love and adventure. She finds herself thrown into upper class Parisian society where — despite their glamorous lives — even the most talented and famous are still miserable. Much like its plucky heroine, this comedy takes the time to appreciate simple pleasures of life and, bien sur, of the city of lights.
Screening Co-Sponsored by The W&M French and Francophone Film Festival
10pm Kimball Theatre Lobby: Pre-Cult Metropolitan Reception 
Special Event Co-Sponsored with Alma Mater Productions (AMP)
11pm, Kimball Theatre: Programming by Popular Demand
Once  (2006 / Ireland / John Carney / 85m / R) 
John Carney's understated, modest re-imagining of the musical genre wound up stealing the hearts of audiences around the world with its story of a local street busker and an immigrant pianist whose shared passion for music and songwriting transforms into a poignant love story. The city is a backdrop for encounters, relationships, and artistic collaboration in this modern musical film set on the streets of Dublin.  
SATURDAY, FEBRUARY 18
11am, Kimball Theatre: Family Film in the City: The Little Tramp in the Big City
City Lights (1931 / USA / Charlie Chaplin / 87m /G)
A delightful silent film by the one and only Charlie Chaplin, City Lights is regarded as one of Chaplin's most moving accomplishments. The film follows Chaplin's beloved Tramp as he falls for a blind flower girl and tries to win her love.
Tickets: $3/General Public, $1/Children under 12 and W&M Students, or GFF VIP Pass
1 pm, Kimball Theatre: Local and Global Student Short Film Competition Showcase 
For the first time, the Global Film Festival accepted submissions of short films produced by students from around the world. Selected films will be screened and in competition for Best Reflection of Festival Theme, Best Story, and Best Artistic Achievement prizes as well as an Audience Favorite Award.
3pm, Kimball Theatre 
Urbanized (2011 / USA-UK / Gary Hustwit / 82m / NR)
The third in Gary Hustwit's critically acclaimed design trilogy, this documentary explores the world wide dynamics of urban planning and the design of cities. The film makes the case for the city's fundamental role in shaping human history from environmental concerns to housing, economic development, and civic involvement. Hustwit works to make sense of the unique challenges that urban environments pose when shaping and designing our cityscapes and all of our lives.
4:30pm, Kimball Theatre 
Chico & Rita (2010 / Spain-UK / Tono Errando & Javier Mariscal / 94m / NR)
This film, recently nominated for an Academy Award for Best Animated Feature film, follows a young songwriter and a beautiful singer from Havana to New York and beyond. United by love and music across the transnational cityscapes of Havanna, New York, Los Angeles, and Las Vegas, Chico and Rita's journey is filled with heartache and beauty shaped by urban transience.
China's Urban Filmmaking
Co-Sponsored by the W&M Confucius Institute
6 – 7pm, Kimball Theatre Entrance & Lobby: Asian Fusion Reception
Featuring the Boka Food Truck
7pm, Kimball Theatre 
Shiqi sui de dan che/Beijing Bicycle (2001 / China / Xiaoshuai Wang / 113m / PG-13)
In the tradition of the Italian neo-realist classic The Bicycle Thief, this film tells the story of a 17-year-old boy who travels to Beijing from his home in rural China. A landmark work of China's "Urban Generation" of filmmakers, this film explores social issues affecting the lives of urban youths as well as the age-old questions surrounding urban-rural dynamics.
9 pm, Kimball Theater
Mou gaan dou/Infernal Affairs (2002 / Hong Kong / Wai-keung Lau & Alan Mak / 101m R)
The source text for Martin Scorsese's acclaimed Boston gangster film, The Departed, this iconic Hong Kong crime thriller has enjoyed enormous popularity as well as critical acclaim throughout Asia and the world. An undercover police officer infiltrates the mafia, while an undercover mafia member infiltrates the police force in this tale of loyalty, honor and betrayal.
11pm – 2am, The Crust, College Square: Cosmopolitan After Party
An Event Co-Sponsored by Asian and Middle Eastern Studies (AMES)
Featuring live music by:
The Suzan
Tough Luck
Digging Up Virgins
Tickets: $10 or GFF VIP Pass
SUNDAY, FEBRUARY 19
9:30am, Kimball Theater: Filmmakers' Breakfast: A Conversation About the Relative Benefits and Challenges of Low and "No" Budget Filmmaking 
The Price (2011 / USA / Zeke Pinheiro & James St. Vincent / 22m / NR)
Automatic Draw (2012 / USA / Roman Dent & James St. Vincent  / 10m / NR)
Rough Draft (2011 / USA / Caitlin Clements / 60m / NR)
11 am, Kimball Theater: Roundtable Discussion
James St. Vincent (director, The Price) & Ashleigh Snead (producer, The Price)
Caitlin Clements (director & producer, Rough Draft & W&M '11)
12pm, Kimball Theater
Mosquita y Mari (2011 / USA / Aurora Guerrero / 85m / NR)
Virginia premiere, presented by director Aurora Guerrero w/ post-screening Q&A
This debut feature film from Chicana filmmaker, Aurora Guerrero, had its world premiere at the Sundance Film Festival last month to rave reviews. This uniquely gentle and intimate film, shot entirely on DSLR cameras, tells the coming-of-age story of two Chicana high school girls growing up in Huntington Park, East Los Angeles. In the face of the many challenges of their urban Latina adolescence, the two find refuge and strength in the love that blossoms between them.

2:30pm, Muscarelle Museum of Art: 1960s Street Films: Havana and Chicago
Introduced by Director of Film Studies, Prof. Ann Marie Stock & Former Director of Film Studies, Prof. Arthur Knight
And This is Free (1964 / USA / Mike Shea / ~40m / NR)
Ire a Santiago/I Will Go to Santiago (1964/Cuba/Sara Gomez/~15M/NR)
Ire a Santiago is a portrait of Santiago de Cuba and its people, delving into the mix of history and culture that make up the city.
NOW (1965/Cuba/Santiago Alvarez/~6M/NR)
Now, by Cuban filmmaker Santiago Alvarez, uses music and documentary footage to address issues of racial inequality in America.
4pm, Muscarelle Museum of Art: Filmmakers/Special Guests Round Table: Cities and Creative Inspiration
Featured Panelist: Aurora Guerrero

6pm, Ewell Recital Hall: 24Speed in the City 
For the 8th Annual W&M 24 Speed Filmmaking Contest, participating teams will be required to plan, film, and edit a short film in a 24-hour period and in accordance with a city- themed directive drawn from a hat. Those speedy city films will be screened and judged along with a variety of awards being presented.

7:45 – 9pm, Commonwealth Auditorium, Sadler Center
Student Short Film Award Ceremony
2012 "Film & the City" Closing Concert
Featuring the W&M Wind Symphony